Intemperate language from a Vatican dicastery?
By Phil Lawler ( bio - articles - email ) | Apr 04, 2012
"These people are well known, and the Pontifical Academy and other bodies of the Holy See give them no credibility whatsoever."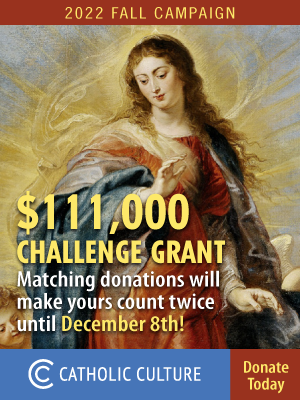 Is this how Christians speak of one another?
The Pontifical Academy for Life is understandably upset that some pro-life activists were ready to claim credit for derailing a proposed conference on stem-cell research. But to dismiss those activists as having "no credibility whatsoever" is harsh to the point of incivility. Such insulting language has no place in an official communication from an office of the Holy See.
And it doesn't help that officials at the Pontifical Academy for Life used that language in a reference to pro-lifers. Apologies are in order, if the Pontifical Academy wishes to maintain its own credibility among people who take the pro-life cause seriously, and resent ad hominem attacks on their allies.
Sound Off!
CatholicCulture.org supporters weigh in.
All comments are moderated. To lighten our editing burden, only current donors are allowed to Sound Off. If you are a current donor, log in to see the comment form; otherwise please support our work, and Sound Off!
Posted by: Defender - Apr. 05, 2012 2:12 PM ET USA

Doesn't there appear to have been a rather big change in what, when, and how the Vatican "speaks" in the past decade or so? The Vatican was always known for its civility and reticence, now it will comment on almost everything (music, rock stars, novelists, etc) without being prompted. It never would have turned on itself or allies - though being politically correct seems only to now apply to other religions and areas of the world.