"I spit on your evil!" (or) The joy of rational discussion
By Dr. Jeff Mirus ( bio - articles - email ) | Jun 04, 2019
The last few days have been amusing, as I've fielded comments on my review of Taylor Marshall's book. For example: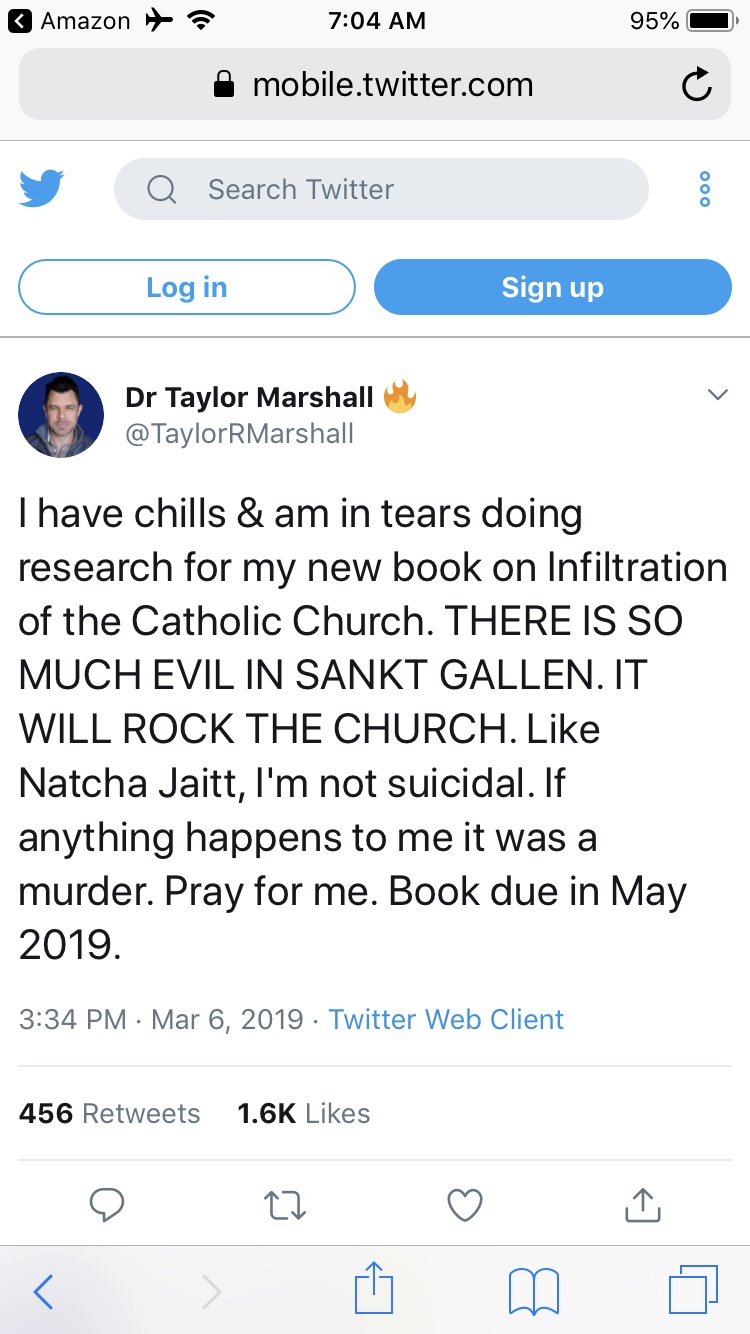 I learned that Taylor Marshall, during the run-up to the publication of his book, claimed to have a mystical experience, a vision, concerning its contents. I can't comment on the validity of the experience, and the vision did not seem to have anything essentially wrong with it, but I wonder why he would want to make a public claim about it.
Then there is the bizarre tweet Marshall made about the same time. (See the image, above or at right depending on your device, which shows a tweet about his possible murder at the hands of the Sankt Gallen conspirators.)
In any case, Marshall (and/or the group behind his book) displays marketing genius. Within hours of the publication of the book, there were over 800 reviews on Amazon, each and every one overwhelmingly positive. You'll remember I mentioned the list of some 2,000 marketing team members in the back of the book. If you are looking for evidence of a conspiracy….
Then there is the feedback I have received, such as this, allegedly from "Critic" in "Heaven":
"You've lost your sanity when you attack Taylor Marshall's book! You're a naïve fool…. I spit on your evil."
And this, from "Reviewer" residing in "Internet":
"Your unjustified hatred is proof of Marshall's claims. You're jealous because Sophia Institute Press publishes books that increase the faith of Catholics…while people of your Novus Ordo ilk publish books to destroy the Church from within! Evil Liberal Catholics like you have destroyed White Europe in favor of Pope Francis' toleration of evil Islam and terrorism. Your opposition of Marshall's bestseller is actually a good example and proof of what he exposed."
Well sure. When the evidential bar is low, anything you want can be alleged as a proof of anything you choose to believe. Thank you, correspondents, for illustrating my case.
On the other hand, the crazies are not limited to Marshall's end of the spectrum, and I do not mean to imply that they are. I also received the following in response to my Insights message on Friday, which I had entitled "Francis speaks unwisely, again":
You are no better than Judas Iscariot & his treachery of Jesus; my only question is who is paying you 30 pieces of silver for Pope Francis' life? Et tu Judas? Secondly, the USCCB & Catholic media is disgusting in its obvious & sycophant far right adoration of the Republican Party…. It is overtly biased animal excrement such as yours that propels me to vote Democrat!!!...Shame on you for using the name of the Trinity for your own politically corrupt purposes. Shame on you, just shame on you!
To paraphrase Kermit the Frog, it's not easy being sane.
Sound Off!
CatholicCulture.org supporters weigh in.
All comments are moderated. To lighten our editing burden, only current donors are allowed to Sound Off. If you are a current donor, log in to see the comment form; otherwise please support our work, and Sound Off!