how dare he?
By Phil Lawler ( bio - articles - email ) | Sep 02, 2010
When Pope Benedict travels to Britain later this month, there will presumably be several million people who would be delighted if the Holy Father would visit their schools, speak to their organizations, celebrate Mass in their parishes, or bless their homes. Unfortunately his schedule is tight, and he can't accept every invitation. When the final schedule was set for the papal visit, some people were disappointed.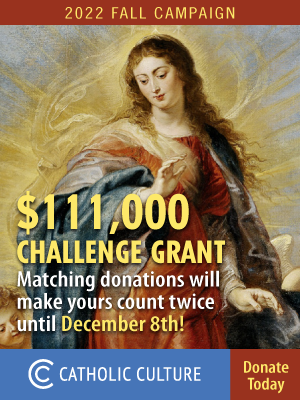 Most of them took it with good grace, though. Most of them recognized that there are limits on the Pope's time and energy. Most, but not all. The Daily Mirror reports:
The Pope has refused to broadcast on Radio 4's Thought for the Day during his UK visit.
Notice how the report is worded: not that the Pope "was unable to" address the radio audience, or "could not find time" to make the appearance, or even "declined" the invitation. No; he "refused." The choice of that word suggests that Radio 4 had a right to the Pope's presence; that the Vicar of Christ was rude to turn down the invitation. Or maybe he had some ulterior motive for declining the opportunity to address the radio audience? What is he trying to hide?!
Brace yourself. There will be much, much more of this sort of skewed coverage in the British press. It's going to be a long few weeks.
Sound Off!
CatholicCulture.org supporters weigh in.
All comments are moderated. To lighten our editing burden, only current donors are allowed to Sound Off. If you are a current donor, log in to see the comment form; otherwise please support our work, and Sound Off!
Posted by: Defender - Sep. 02, 2010 7:40 PM ET USA

Maybe he has read the Daily Mirror...