Higher Finance
By Diogenes ( articles ) | Feb 06, 2006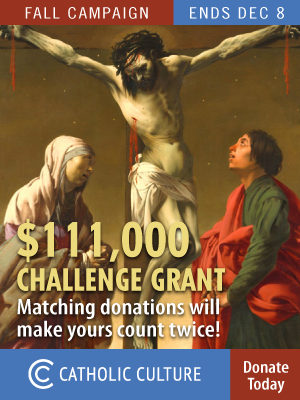 Just what is the John Paul II Cultural Center? The center's web site for the lavishly funded Washington institution tells us:
Perhaps the best way to visualize the Center's mission is as a safe haven for those who are journeying on the road to Emmaus.
Perhaps so. If that's the case, it seems that not many Americans are "journeying on the road to Emmaus," because a more critical analysis in the National Catholic Reporter quotes a former employee as noticing: "There are no busy days at the center." The exhibits may be beautiful, but nobody comes to see them. So the Reporter refers to the center as "a 100,000-square-foot-money pit."
In fact, the Reporter claims the Center has a debt of $36 million, which is being covered by the Archdiocese of Detroit-- at a time when Catholic schools and parishes in Detroit itself are being closed.
The Detroit Free Press doesn't full agree with the National Catholic Reporter. It's not a $36-million debt, the Free Press reports, citing internal documents from the Detroit chancery; the actual figure is $40 million.
But wait! The fact that parishioners in Detroit are losing their parish churches and parochial schools has nothing to do with the millions that are being funneled to Washington, archdiocesan spokesman Ned McGrath tells the Free Press:
"The things that are happening in Detroit are not related to finances," McGrath said. "We have shifting populations and declining enrollments in schools. We have a decreasing number of clergy. Those are the real issues we have to face."
If that argument sounds hauntingly familiar, it's probably because dozens of diocesan flacks have assured us, many many times now, that there is no connection between the millions handed out to victims of priestly abuse and the closing of financially strapped parishes. If you even suspect a connection, you're only showing your ignorance of Higher Finance. You're probably one of those silly people who think that having $40 million cash is better than having a $40-million debt.
Besides, Ned McGrath earnestly observes, the archdiocese has loaned $45 million to Catholic schools in the Detroit area. So what's the big deal about loaning another $40 million to the Center in Washington?
Two points come to mind, actually.
Washington isn't in the Detroit archdiocese.
There's a critical difference between parochial schools and the John Paul II Cultural Center: People come to parochial schools.
Sound Off!
CatholicCulture.org supporters weigh in.
All comments are moderated. To lighten our editing burden, only current donors are allowed to Sound Off. If you are a current donor, log in to see the comment form; otherwise please support our work, and Sound Off!