Here's an idea: just cancel the Al Smith dinner
By Phil Lawler ( bio - articles - email ) | Oct 25, 2016
You say you weren't happy about the Al Smith dinner? Neither was I. Neither was John Gehring.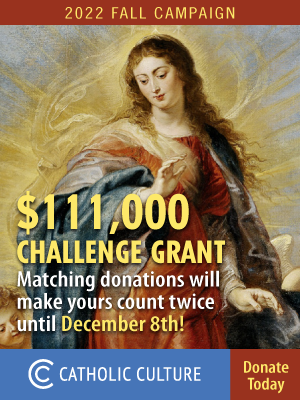 Yes, I'm writing about that John Gehring, the liberal political operative who did PR work first for the US bishops' conference, then for Catholics in Alliance for the Common Good, the group that Clinton campaign chairman John Podesta boasted about establishing.
Maybe you thought it was grossly inappropriate for a Catholic institution to provide a forum for Hillary Clinton, whose hostility toward the Church is only barely concealed. Gehring had a different complaint, he complained on the Commonweal site that "the idea of watching Donald Trump yucking it up with the cardinal of New York in a room full of wealthy Catholics turns my stomach."
"The Catholic Church should play no part in the mainstreaming of Donald Trump," Gehring argued. You might prefer to see Hillary Clinton's name at the end of that sentence. Or you might agree with me that the names of both presidential candidates belong there. The point is that you and I and John Gehring all agree that it's inappropriate for the New York archdiocese to provide a PR opportunity for a candidate whose views are incompatible with Catholic teaching.
We may disagree, of course, as to which candidates should be excluded from the annual funfest. But now that the New York archdiocese is catching flak from both ends of the political spectrum, maybe it's time to question whether the Al Smith dinner should be abandoned.
It's already safe to say that four years from now, if the tradition endures, there will be heated debates about which presidential candidate(s) should not be invited. Why should the archdiocese invite that sort of squabble? Why is it seemingly written in stone that the Democratic and Republican candidates will be present? The implicit message is that although we may differ on some superficial issues, deep down we're all friends who agree on the really important issues. Well, frankly, we aren't.
(Just by the way, I wonder what would happen if a 3rd-party candidate become a viable possibility for election in 2020; would that candidate be invited as well? If so, would the Democratic or Republican contender be dropped? It was a challenge for Cardinal Dolan to sit between two candidates, but not even he could sit between three people; it's a physical impossibility.)
Apart from the confusing and even disturbing political messages sent out by the annual event, there is also a major problem with the images broadcast from the dinner. Millions of Americans saw the pictures of the Archbishop of New York flanked by the two presidential candidates. Surrounding them, they saw dozens of wealthy corporate executives in white ties, seated in tiers at a swanky New York hotel. Is this the image of Catholicism that we want to send out to the world—the image of a comfortable Church, living in luxury, at ease with the workings of the Establishment?
Yes, I know; the event raises a great deal of money for organized charities. But is the money worth the cost?
Sound Off!
CatholicCulture.org supporters weigh in.
All comments are moderated. To lighten our editing burden, only current donors are allowed to Sound Off. If you are a current donor, log in to see the comment form; otherwise please support our work, and Sound Off!