The givenness of things (a positive exchange on Facebook, for once)
By Thomas V. Mirus ( bio - articles - email ) | Mar 29, 2017
Over the past few years, I've waged an ongoing and mostly successful battle with myself to reduce the number of Facebook discussions (or really, debates) I get bogged down in, especially with people who don't share my basic worldview, no matter how annoying I find much of the opinion that pop up in my newsfeed. For one thing, any net gain from such entanglements is exceeding/y rare, and for another, I'm almost as sick of seeing my own opinions. Occasionally, though, there is a positive exchange with someone who doesn't share my background. I have a colleague, for example, a musician and math tutor who, while non-religious and generally liberal, has shown himself to be intellectually curious and open as well as dissatisfied with any specific contemporary ideology.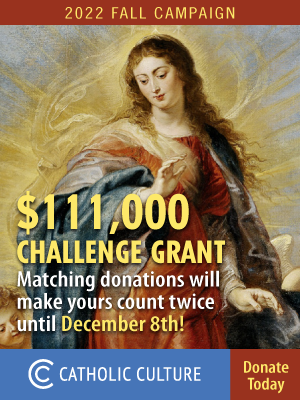 This acquaintance of mine the other day shared an article by a sociologist suggesting that "Eurocentric modernism" had cut us off from our own human nature in the past four hundred years or so. I commented that while I didn't buy into the author's seemingly primitivist solution to the problem, I agreed that modernism (of which there probably is no truly non-Eurocentric kind) had alienated us from our human nature, since it amounts to denying that there is such a thing. I suggested that the solution was to recover a true anthropology that respects both the spiritual and bodily aspects of our nature, as opposed to modern Manichaeanism. My comment trailed off along the lines of "...and ultimately...well, you don't want to hear my religious views."
To my pleasant surprise, my musician friend assured me that he most certainly did want to hear my religious views, urging me to "go hard." I meekly explained that all I had thought to add was that if you "kill" God, you kill man also, at which he lightheartedly admonished me that I couldn't expect to get away without explaining that statement further. Thus I ended up writing several more paragraphs to explain, in effect, why denying God deforms man. While my friend didn't write a substantial response to my comment (a great deal of which was inspired by R.J. Snell's book Acedia and Its Discontents), he did tell me it was "beautiful," which I thought sufficiently heartening feedback from someone who, to my knowledge, has little or no previous familiarity with the ideas I was presenting. And so, in case anyone else will find it interesting, I reproduce here my full comment in its original form:
OK, I'll take a whack at it from two angles: ontological and moral. (Now having written the below, I'll note that the end is a bit less organized because of the attempt to get a bit more concrete with the consequences.)

God is the ontological ground of all that exists. He is pure act of being (as understood by Aristotle), "I Am That I Am" (as revealed to Moses); as Aquinas would put it, His essence and his existence are one and the same. Our existence is just a lesser participation in His eternal (outside of time) act of existence. To deny the transcendent ground of our existence, and the eternal breath which maintains us in being, is then to be far more profoundly alienated from ourselves than if we were to deny our biological parents.

God is the only non-contingent (necessary) being. Our existence and that of everything else besides God is unnecessary, gratuitous, and therefore a pure gift. Moreover, as rational and free creatures, God has granted us a higher share in His being, which means that unlike, say, a rock or a flower, I can actually choose the attitude which I take towards this gift universe and my gift existence. I also have the capability to exercise my reason and free will and creativity in realizing my full potential. Lesser creatures don't have to do as much because they simply are what they are. Paradoxically, a human being has to work to become what he or she is.

However, there is already a moral obligation developing here. If my human nature is a gift, it is a given—I did not cause myself to have this nature and I am "limited" to developing myself along the lines of the nature I have. This is not just true of my nature, but of everything that surrounds me. I have the ability and even the commission to use my human capacities and creativity to use and develop things in my environment. But these things too have their own unique natures which I must respect in order to use and develop them properly. If I do otherwise, treating the world around me not as something integrated but as so much dead matter to be manipulated and rearranged at will, I not only violate these things but I offend in ingratitude to the Giver to whom these things ultimately point. It is no coincidence that so much disrespect for the environment and for the beauty of the natural world followed upon the adoption (even before the denial of God) of a *purely* mechanistic view of nature, the denial of teleology and ultimately of transcendence.

Here is where pride comes in. Modern man, with his finite view of gift, takes the attitude that to receive something is to be put in a subordinate role. He does not like that. He wants to be the absolute, not contingent. He wants to be master. Furthermore the limits inherent in a "given" nature are no longer to his liking; he wants to exercise not stewardship but absolute domination over things external to him, and even over his very self. He may even begin to prefer nonexistence to anything less than total sovereignty.

So we deny, on the one hand, God, and on the other, that man has a spiritual as well as physical nature. "If God does not exist, then everything is permitted," and if there is nothing transcendent in my fellow humans (much less non-human creatures), then I can do to them what I please. Neither man, woman, child, bird, soil or tree has a "claim" on me because it is mere matter (and I don't really have free will anyway so it doesn't "matter" what I do). I do not even have moral obligations toward myself. Ironically, in order to make himself God, man denies what is "divine" in himself.

This desire for absolute freedom has other consequences aside from rejecting God. Rootedness, to a place, to a job or to family, sounds too much like slavery. I want to be "free" to go wherever I want and do whatever I want whenever I want and true commitment precludes that. There is neither contemplation (of nature, art) nor self-gift; there is only domination and transaction. Relationships, like the people in them, become sterile instead of going out of themselves. Pragmatism, utilitarianism, and individualism.

Society can be an obstacle to my desires as well, or at least an obnoxious reminder of human limitation. If I can make myself according to my own will, why not the social order as a whole? Utopian movements to completely restructure society are ultimately movements to remake human nature (Marx certainly understood this). But that is no obstacle—we can create a perfect society on this earth as long as we have the right policies, the right education, the Right People in power (people like Me) to decide in whose image society ought to be remade. The most basic human relationships and institutions have to go. Collectivism.

Finally, having denied the spirit, I deny the body as well. Even if I do not believe I have a fixed nature, the countless pathologies which I may have developed as a result of a world gone mad begin to chafe at the inescapable restrictions of my corporeal reality. But I cannot remake my own nature: I can only fulfill it or mutilate it. (I can transcend it, but not of my own power, and transcendence is built on fulfillment not rejection of nature.) If I decide I* am a unicorn trapped in a man's body (and yes, there are actually people who say this, you can find them on Tumblr), I may convince or bully people to affirm me in my unicornity (one more reason to restructure society), I may even (if the technology develops to that point) get surgery to refashion my body to look more like a unicorn's, but I will not be a unicorn; I will only be a broken and deformed man. I will only be at peace if I reconcile myself to the nature I have.

*But what am *I* aside from my body if I have no soul, anyway?
Sound Off!
CatholicCulture.org supporters weigh in.
All comments are moderated. To lighten our editing burden, only current donors are allowed to Sound Off. If you are a current donor, log in to see the comment form; otherwise please support our work, and Sound Off!