For Lent: Our Inability to Focus on What We Love
By Dr. Jeff Mirus ( bio - articles - email ) | Mar 06, 2013
People could look at my writing, nod wisely, and offer sound advice, like "Don't quit your day job." That's apt, even in the present case, because most of my day is spent on the details of running CatholicCulture.org in a manner that actually keeps it afloat.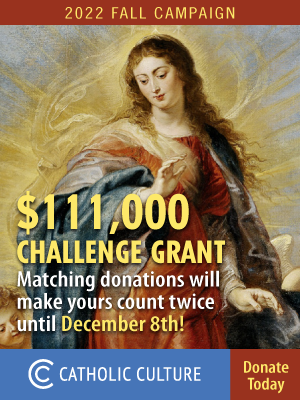 Many Catholics would judge, and not without reason, that I have a dream job. I get to write about the Church and the Faith, and some people actually read what I write. That's a rare privilege. I hasten to add that my children are all grown, and I have arrived at that grand American retirement age when I can theoretically do as I please.So naturally, I've often dreamed of doing nothing but reading and writing. But I always conclude the same thing: If we can't keep the whole CatholicCulture.org package going, the entire project will lose critical mass, revenue will drop drastically, and everything any of us here writes will be carried away on an ill wind that blows nobody any good.
So today, for example, I worked on a proposal to expand and improve our advertising system as well as putting together the Easter volume (coming soon) of this year's liturgical year ebook series. Yesterday, I caught up on donor processing, bank deposits and insurance issues. Tomorrow I'm likely to be preoccupied with our Booster program and the question of how best to simplify our much-maligned donation system. Friday looks pretty good. Saturday, while my wife is on retreat, I'll tackle taxes.
I'm not complaining. It's the way things are, and I am willing to bet it sounds just like the way things are in your life, too.
The bottom line is that all responsible adults spend most of their time on the frequently unsatisfying necessities that make a truly good life possible—a good marriage and family, a needed ministry, some "job" that serves the community in ways that we especially value, our own unique charitable and apostolic work, and even the leisure in which we relax, refresh and renew. It is amazing how much of our time and energy are inescapably devoted to all the details that must work out just right to make what we love possible. That is why these loves most often occupy our attention only obliquely. If we enjoyed them too directly, the whole network of necessities upon which they depend would collapse.
True saints seem to understand this instinctively. In their humility, they delight in being occupied in precisely the way that God intends right now instead of constantly wondering when they are going to find time to write the book that will make them famous, or even to spend "quality time" with their family and friends. For the rest of us—certainly for me—life is often made up of long periods working through whatever is unsatisfying in the hope that what is satisfying will actually become the direct object of our attention in the end.
Is it not an immense source of frustration? On the other hand, there is nothing quite like frustration for spiritual growth. God's middle name is frustration. He understands the giving of self now in the hope of enjoying what we love later. What percentage of His time, I wonder, did Our Lord spend on the direct appreciation of the souls He had come to save? Misdirection was His constant companion. Attending to apparently tangential details became the very foundation of His way and His truth.
This should lead us, I think, to recognize that what seems tangential is, when properly ordered, not tangential at all. Every sacrifice, every penance appears to be a kind of holy detour only to be transformed into a shortcut by a miracle of grace. Lent, like life, is full of such detours. There is food for thought here, and for prayer.
Sound Off!
CatholicCulture.org supporters weigh in.
All comments are moderated. To lighten our editing burden, only current donors are allowed to Sound Off. If you are a current donor, log in to see the comment form; otherwise please support our work, and Sound Off!
Posted by: dover beachcomber - May. 05, 2018 10:56 PM ET USA

When apparently bad things happen in the Church, I always try to think what the Holy Spirit could be trying to teach us. In the present case, I think He might be calling the laity to know the Faith as it has been handed down to us from the Apostles, and then to demand—not ask, but DEMAND—that popes, bishops, and clergy lead according to its teaching. Some of them have been messing with the Faith for 50 years. Shouldn't we be fed up by now??

Posted by: koinonia - May. 05, 2018 12:18 PM ET USA

For a long time those who have been critical of abuses and novelties in the Church have been criticized by others for not "giving the benefit of the doubt'or looking for the best take. Now even the most reticent to speak negatively are so doing. There really is no choice. It's the nature of the trouble. Regardless of intent, harm happens. The Holy Father could have solved the crisis yesterday and decisively. Now the debate continues- as if there is a debate. And harm comes of it.

Posted by: fenton1015153 - May. 05, 2018 8:13 AM ET USA

How can Pope Francis not support clear teaching of the church? If he is doing this then he is not being supported by the holy spirit to protect him from making erroneous actions regarding faith and morals. If that is the case is Pope Francis really Pope? Come Jesus come. Have mercy on us.

Posted by: Cory - May. 05, 2018 6:55 AM ET USA

<"But there is little in the Vatican's non-decision to bolster confidence."> There is nothing in the Vatican that bolsters confidence period. Unless you are one advocating for the demise of the Catholic faith.

Posted by: shrink - May. 04, 2018 6:31 PM ET USA

I recall on the first day, that Francis sees himself as the Bishop of Rome, and not, the Vicar of Christ. Perhaps his ultimate purpose is to dismantle papal primacy. Are we all orthodox now? Just asking.

Posted by: Retired01 - May. 04, 2018 4:47 PM ET USA

Another possibility is that Pope Francis is after a decentralized Church, where doctrine and pastoral practices are determined by national bishops. If that is the case, he is trying to destroy oneness in the Catholic Church. This is what I believe is currently happening regarding giving communion to those in adulterous relationship as a result of Amoris Laetitia.

Posted by: john.n.akiko7522 - May. 04, 2018 3:43 PM ET USA

Didn't the Holy Father say in the past that this was a difficult issue, one to he didn't understand well and to be decided by theologians? Well the theologians at the CDF have decided, so I would hope he would listen to them.

Posted by: hilljrc5972 - Mar. 09, 2013 7:48 AM ET USA

I recall the words of a priest who was Catholic chaplain at a large public university.."I used to get upset about distractions to my work; then I realized distractions WERE my work."