Far too late
By Phil Lawler ( bio - articles - email ) | Feb 04, 2009
On January 26, the Holy Father lifted the excommunications of four traditionalist bishops. On February 4, the Vatican issued an explanatory statement. A few simple observations: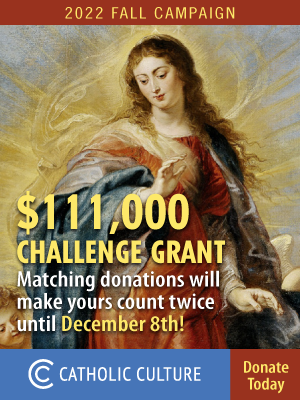 You don't have to be a public-relations genius to realize that the explanation should have come alongside the announcement-- not nearly two weeks later.
There is absolutely no reason why the same statement could not have been released on January 26. This tardy release is a classic display of PR bungling.
The February 4 statement indicates that the Pope was unaware of Bishop Williamson's outrageous views on the Holocaust. That shows more bad staff work; the bishop's views were well known to those who had followed SSPX affairs carefully.
The international controversy, the angry denunciations of the Pope, the embarrassment of the Church-- all of it could have been prevented by minimally competent staff work.
Heads should roll.
Sound Off!
CatholicCulture.org supporters weigh in.
All comments are moderated. To lighten our editing burden, only current donors are allowed to Sound Off. If you are a current donor, log in to see the comment form; otherwise please support our work, and Sound Off!
Posted by: shrink - Oct. 24, 2018 9:37 PM ET USA

Virtue is always hard, and courage is particularly hard for a bishop. Dante put hundreds of them in Hell. The office of bishop is cursed throughout the centuries. One cannot acquire it without being accommodating, political, and a ladder climber. But once in the office, it demands real bravery, which is far beyond the reach of most office holders. Recall that Henry VIII was resisted by only a handful of abbots and one bishop out of a few hundred. Or that only 25% bishops resisted Arianism.

Posted by: dfp3234574 - Oct. 24, 2018 8:24 PM ET USA

"Today, many bishops and priests, as well as many parents and other leaders in the Church, seem far more concerned with the feelings, and emotional happiness of those under their care than with their actual moral condition." "This is a crisis due to the scourge of homosexuality." Of course, these are both 100% true. But my response: It is 2018! Why are Catholic writers opining as if this were breaking news? What's going on?