A failure of American faith: the Museum of Biblical Art is closing
By Thomas V. Mirus ( bio - articles - email ) | Apr 28, 2015
The Museum of Biblical Art (MOBIA) in Manhattan, which opened in 2005, is closing, according to a story in the New York Times. This is despite critical acclaim and, recently, a very popular collection of Donatello sculptures from the Duomo museum in Florence, which MOBIA brought to the US for the first time. The Donatello exhibit has drawn more than 20,000 people since its February opening. (I've been planning to see this exhibit for a while, and recommend that others do so as well before it and the museum closes on June 14.)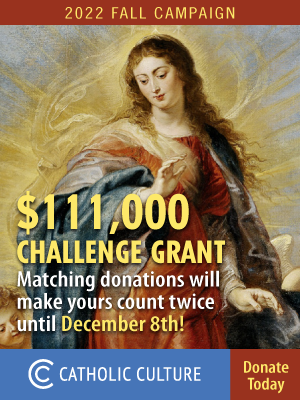 Sadly, MOBIA simply could not raise enough money to find a new space after its current location was sold by its former patron, the American Bible Society. But the reasons for MOBIA's fundraising difficulties are perhaps even more disheartening than the closing of the museum itself.
MOBIA, in exploring Western art with a Biblical focus, made it its mission to "argue from a secular perspective that the Bible is a culturally foundational text, which has greatly influenced artists historically and continues to inspire the creation of countless important works of art today." Yet this apparently was confusing not just to a secularist culture, but to religious believers who have an impoverished vision of both art and faith.
In a depressing illustration of the politicization of faith and culture, a former MOBIA publicist noted: "Just having the word 'Bible' in the name says to so many people that we're a conservative, right-wing group, and that could not be further from the case."
What the museum's director, Richard P. Townsend, describes in neutral terms as "brand confusion" may have been its downfall: according to the NYT story,
the museum fell into a fund-raising gap too wide to overcome, between secular art patrons, some of whom felt the museum was too restricted in its biblical focus, and religious givers, who felt the museum was not focused enough on the Bible as a religious text.
Perhaps the situation was best summed up by Image Journal editor Gregory Wolfe, who tweeted:
The closing of the Museum of the Bible in Art is a terrible loss & a reminder of the fragility of the "arts and faith" renaissance.

— Gregory Wolfe (@Gregory_Wolfe) April 28, 2015
The fate of MOBIA is evidence of the gap between religious thinkers calling for engagement w/the arts & the state of religious philanthropy.

— Gregory Wolfe (@Gregory_Wolfe) April 28, 2015
Sound Off!
CatholicCulture.org supporters weigh in.
All comments are moderated. To lighten our editing burden, only current donors are allowed to Sound Off. If you are a current donor, log in to see the comment form; otherwise please support our work, and Sound Off!