et moi, à quoi je crois?
By Diogenes ( articles ) | Sep 01, 2007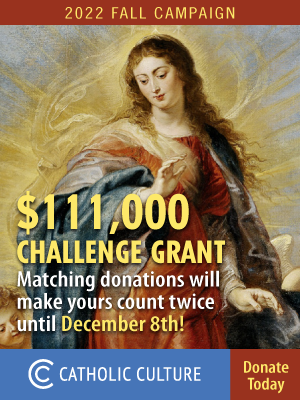 Now this is sad.
"Toupie" is a serialized French picture-book ("for ages two through four"), of which I came upon a ten-year-old Christmas-themed issue. One of the vignettes (click here and here) shows a living-room scene with the kitten Pikou cozily enjoying Christmas Eve with Momma and Poppa cat. The following dialogue takes place:
-- Why have Grandma and Grandpa gone out tonight? asked Pikou.
-- Grandma and Grandpa go to Midnight Mass on Christmas Eve.
-- Why don't we go with them, Momma?
-- Because I don't share their religion, said Momma.
-- What? There's more than one religion?
-- Yes, said Poppa, there are many religions.
-- And, added Momma, there are people like me who don't believe in God.
-- Do you believe, Poppa?
-- Yes, I believe in God, but I don't feel their need to go to church.
-- What about me, when I grow up? asked Pikou.
-- When you grow up, it's you who make the choice. Your ideas are your own.
-- OK, said Pikou. As for me, I'll just wait for Santa Claus!
The moral falsity of this vignette hinges on its ostensible purpose, i.e., to address (and satisfy) a child's naive curiosity about religion. But it doesn't do that at all. In reality the rationalizations are addressed to heathen parents -- no practicing Catholic would read this tripe to his children -- and intended to comfort prosperous and lazy post-Christians vexed with a bad conscience about their own captious laicism and spiritual sloth.
It's noteworthy that the Pikou Curieux of this fiction is conveniently incurious about the Why of his parents' belief and non-belief, and so the truly awkward questions remain unasked. Further, beyond the inert sociological datum that different people believe different things about God, the child-hearer of this story is given no help to understand the mystery that pulls his grandparents out of the house at midnight and is somehow connected with the unusual festiveness of the season. Framed in a context of self-congratulatory tolerance ("it's you who make the choice ..."), the lesson in fact insinuates an agnostic point of view, inasmuch as every young child intuitively understands his parents would never withhold anything they believed was really important to his well-being. God can't be a big deal, if those who love me most are so comfortable in their contradictions about Him.
In posting Pikou I'm less concerned about its effect on the faith-lives of French toddlers than about a subject closer to home: the way in which its clandestine agnosticism mirrors the hesitations of the typical Catholic university -- hesitations deftly summarized by R.R. Reno in this excellent post on the First Things blog. In brief: if the academics who govern and comprise the faculty of Catholic universities cannot affirm that reason leads us to God and godliness, then the students who sit at their feet must draw one of two conclusions: 1) God is not important enough to matter; or 2), the university's "search for truth" is a scam. Those Doctors of Philosophy, after all, have scaled the academic peak and are perched at the top. If they tell us there's nothing reason can see from that vantage point, why should we bother to make the ascent ourselves?
Sound Off!
CatholicCulture.org supporters weigh in.
All comments are moderated. To lighten our editing burden, only current donors are allowed to Sound Off. If you are a current donor, log in to see the comment form; otherwise please support our work, and Sound Off!