Debunking bad history: Wolf Hall and the flat-earthers
By Thomas V. Mirus ( bio - articles - email ) | Apr 10, 2015
The acclaimed BBC miniseries Wolf Hall made its American debut this weekend. The historical drama about the political machinations surrounding Henry VIII's divorce of his first wife and marriage of his second is, by all accounts, well-made, but has come in for some criticism for falsifying history.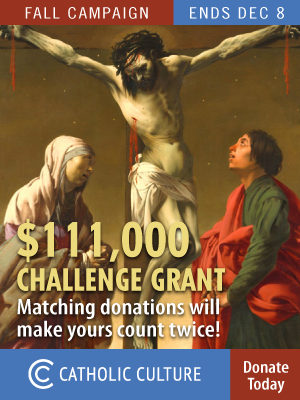 Specifically, the protagonist, Thomas Cromwell, is presented as a noble, sensitive man who works quietly and tirelessly in the cause of the Protestant Reformation, while in fact he was the Islamic State of his day, executing hundreds of innocents and destroying much of England's religious and artistic heritage. St. Thomas More, on the other hand, is portrayed as a cold-blooded Inquisitor and a religious fanatic.
Fortunately, we have writers like Gregory Wolfe to set the record straight - he addressed Wolf Hall's historical misrepresentations last weekend in the Washington Post. If that's not enough for you, you can read his critique of the novel the series is based on, written as an editorial a few years ago in Image.
Speaking of setting the record straight, I just came across a fantastic article in History Today which disproves at length the myth of medieval belief in a flat earth, as well as tracing the development of this lie which did much to cement the modern idea that religion and science are at odds. The essay was written in 1991 (can that really be over 20 years ago?) and is still very much worth reading.
Sound Off!
CatholicCulture.org supporters weigh in.
All comments are moderated. To lighten our editing burden, only current donors are allowed to Sound Off. If you are a current donor, log in to see the comment form; otherwise please support our work, and Sound Off!
Posted by: Thomas429 - Apr. 12, 2015 5:40 PM ET USA

The Russell article was a real eye opener. I did not know that the medieval belief in a flat earth had been corrected. You would not know it from much of the common press today.

Posted by: Randal Mandock - Apr. 11, 2015 2:31 AM ET USA

Thanks for the reference to Russell's 1991 article. I just read it and have found only two weak points. (1) Magellan's men were not the first to prove the sphericity of the earth empirically. Eratosthenes measured the earth's circumference around the 3rd century B.C. (2) St. Augustine did not lack interest in the shape of the earth. He actually refers to the earth in "De Genesi ad litteram" (Book 1, n. 25) as a "massive watery sphere." He uses the spherical earth to explain day and night.