deathbed testament
By Diogenes ( articles ) | Feb 17, 2006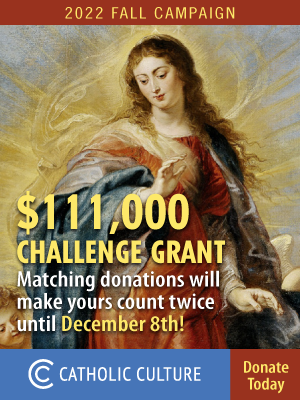 Another outstanding Successor of the Apostles casts a discerning eye on the pastoral necessities of the faithful and decides that what they really need is ... sterility.
Encouraged by Pope Benedict's encyclical on love, a Roman Catholic bishop and a group of Christian intellectuals in France are urging the Vatican to reopen the debate on its ban on artificial birth control.

Bishop Francis Deniau told the Catholic magazine Le Pelerin this week that Benedict's first encyclical "Deus Caritas Est" (God is Love), which was widely praised for the positive way it spoke about sexual love, was a hopeful sign for possible change.
First off, let's scotch any nonsense that would suggest Deniau's not dissenting from the Church's doctrine on contraception. No one urges that a debate be "reopened" unless he wants it closed again in a different way.
Deniau, bishop of Nevers in eastern France, noted that a papal commission had advised in 1966 to allow [contraception], but Pope Paul ignored their recommendation after consulting several cardinals, including the future Pope John Paul.

"The analyses made by the first commission in 1966, which did not condemn contraception, are worth being reviewed and debated," Deniau said.
On the contrary, the "analysis" of the Birth Control Commission was so badly flawed and so quickly demolished that no one, including its own authors, can be found to defend it. It has, as Prof. John Finnis shows, "disappeared without trace," and those same authors and other contraception fans have had to patch together alternative schemes -- a series of alternative schemes -- to explain God's newfound love for sodomy, high-tech onanism, and the color advertisements in America magazine. Yet even on the level of mattress praxis, it seems the good Bishop of Nevers is somewhat behind the curve in the Sterility Stakes:
[Deniau] said many Catholics found they could not follow the "rhythm method" of family planning.
Great job, your Grace, of reading the signs of the times! It's not hard to see why your dying French diocese has a total of six seminarians, while the Diocese of Lincoln, for example, containing half the number of Catholics, has thirty-five. And with Christian Europe in a demographic death-spiral, it's all too fitting that you should reduce Deus Caritas Est to a commentary on "Billy Elliot." God knows who'll follow you in your present job, but we can be pretty sure his episcopal motto will be Allahu akbar!.
Sound Off!
CatholicCulture.org supporters weigh in.
All comments are moderated. To lighten our editing burden, only current donors are allowed to Sound Off. If you are a current donor, log in to see the comment form; otherwise please support our work, and Sound Off!