Contrasting Francis with Benedict: How's that again?
By Dr. Jeff Mirus ( bio - articles - email ) | Sep 26, 2013
So now certain "conservative" Catholics are up in arms about the "liberalism" of Pope Francis. They are alarmed especially by the views he expressed in his recent interview. They have mounted their high horses and charged forward to chastise the Pope.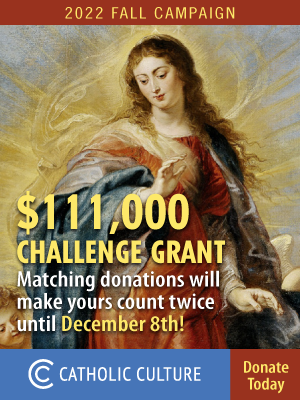 They are particularly incensed by the following comments:
We cannot insist only on issues related to abortion, gay marriage, and the use of contraceptive methods…. The church's pastoral ministry cannot be obsessed with the transmission of a disjointed multitude of doctrines to be imposed insistently. Proclamation in a missionary style focuses on the essentials, on the necessary things: this is also what fascinates and attracts more, what makes the heart burn, as it did for the disciples of Emmaus…. The proposal of the Gospel must be more simple, profound, radiant. It is from this proposition that the moral consequences then flow.
A beautiful homily, a genuine sermon must begin with the first proclamation, with the proclamation of salvation. There is nothing more solid, deep and sure than this proclamation. Then you have to do catechesis. Then you can draw even a moral consequence. But the proclamation of the saving love of God comes before moral and religious imperatives.
So there it is. Even quite a few Catholic commentators have publicly proclaimed that this sort of shilly-shallying is not to be tolerated. Pope Francis must feel the wrath of the true faithful. After all, his properly traditional predecessor, Pope Benedict XVI, would never have said anything like this. Unlike Francis, they loudly claim, Pope Benedict stated the Church's moral teachings at every turn and never permitted the kind of misunderstanding that Pope Francis stirs up so often—so often that we must conclude there is something wrong with his faith!
But perhaps these same pundits were not present on November 9, 2006 when Pope Benedict said the following to the Bishops of Switzerland (both the Vatican and CatholicCulture.org posted the full text at the time):
I remember, when I used go to Germany in the 1980s and '90s, that I was asked to give interviews and I always knew the questions in advance. They concerned the ordination of women, contraception, abortion and other such constantly recurring problems.
If we let ourselves be drawn into these discussions, the Church is then identified with certain commandments or prohibitions; we give the impression that we are moralists with a few somewhat antiquated convictions, and not even a hint of the true greatness of the faith appears. I therefore consider it essential always to highlight the greatness of our faith — a commitment from which we must not allow such situations to divert us.
Kind of lets all the hot air out, doesn't it?
Sound Off!
CatholicCulture.org supporters weigh in.
All comments are moderated. To lighten our editing burden, only current donors are allowed to Sound Off. If you are a current donor, log in to see the comment form; otherwise please support our work, and Sound Off!
Posted by: PeggyJo - Sep. 27, 2013 5:23 PM ET USA

Thanks so much for providing such clarity. We "side" neither with Apollos nor Paul, but with Jesus Christ.

Posted by: filioque - Sep. 27, 2013 4:09 PM ET USA

That's crucial: the obsessions of the culture vs. a putative obsession in the Church. The message has to be tailored to the audience. Pope Benedict was speaking to the the Swiss bishops, a group that presumably knew the right context for his remarks. Pope Francis issued his sound-biteable interview in a coordinated international publication that went straight to the secular media and their spin machine. The results could only have been predicted by a prudent mind.

Posted by: Frodo1945 - Sep. 27, 2013 12:58 PM ET USA

Oakes is on to something. After reading the interview, I could not remember one single sermon in the past 50 years on contraception, abortion, or same sex marriage. No kidding. Our pastors are afraid of these issues, not obsessed with them. It is the secular world that is always asking and pushing about them. For example, same sex marriage here in Maryland came from the politicians and radical activists. The best that we got in church was a bulletin insert, too timid to speak on the issue.

Posted by: Randal Mandock - Sep. 27, 2013 9:55 AM ET USA

After reviewing the full text of Pope Francis' interview, I re-concluded that he is 100% orthodox in his faith. Thus I stayed out of the fray. My only question was about his worry that extraordinary-expression Catholics would somehow belay their papal-assigned mission to reach out to schismatics through nonthreatening means. The FSSP and the Institute of Christ the King were established for the sole purpose of reducing the "ideologization" and "exploitation" of schismatic Catholics.

Posted by: oakes.spalding7384 - Sep. 26, 2013 5:38 PM ET USA

Well, Benedict implied that the media was obsessed with these issues. Francis' seemed to imply that some (many?) Catholics are obsessed with them. That's a difference. I'm not sure Francis meant his words to have been taken quite in that way, but he should have known they would be. And of course it didn't help that he chose America for the interview-which your site has rightly affixed a "Danger" label to. One can be critical without being on a "high horse". Perhaps one simply loves the Church.