The "common good" de-perplexed
By Thomas V. Mirus ( bio - articles - email ) | Feb 21, 2016
A dictum of Catholic social thought that has perplexed and occasionally frustrated me for some time: the common good, we're told, is not just a collection of individual goods. So, we probably assume, it must be the good of the whole (which is somehow not reducible to the sum of all individuals).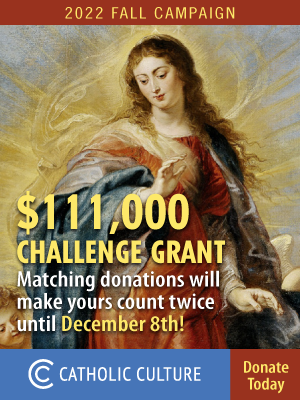 But if it is common, I have always asked, "common to what?" Common to individuals, clearly, and so it's hard to see how the common good could be meaningful as anything but the sum of individual goods, since a society does not subsist apart from individuals.
But Jacques Maritain says that if the common good isn't the sum of individual goods, it is also not just the good of a whole which would absorb individual persons: it is "common to the whole and to the parts." I think I finally understand.
Sound Off!
CatholicCulture.org supporters weigh in.
All comments are moderated. To lighten our editing burden, only current donors are allowed to Sound Off. If you are a current donor, log in to see the comment form; otherwise please support our work, and Sound Off!
Posted by: - May. 09, 2016 11:37 PM ET USA

Faith matters, whether or not Cardinal Marx thinks so!!! Mass attendance is important so are there any churches in Europe that are even 1/2 full at any given time? Are the children learning the faith in school, from their parents, or in church?

Posted by: dover beachcomber - May. 06, 2016 8:38 PM ET USA

I expect nothing else from Marx, but it astounded me that Pope Francis could deliver such lengthy remarks about Europe's future (in the Charlemagne Prize speech) and never mention the Faith! I guess it's not important anymore, since what is needed most is a "new kind of humanism," he tells us. At some point in Evangelization, doesn't one have to mention Christ?

Posted by: Gil125 - May. 06, 2016 5:11 PM ET USA

Pshaw, Phil. You don't talk about faith if you want to win the Charlemagne Prize---or any other---in Europe in the 21st Century. Yes, J.P.II won an "extraordinary" one in 2004, when he was too close to the end to be able to do any more harm.

Posted by: bernie4871 - May. 06, 2016 4:47 PM ET USA

Never saw so many pop/psych words in one speech. Two small paragraphs near the end seem to relate to the Faith and they were ambiguous. The great dynamic words that jump at you: dialogue, inclusion, consensus, education, encounter, coalitions, humanism, social-economy, transformation, just distribution, sense of belonging, and many others too numerous to list.

Posted by: NicholasOfChicago - Feb. 23, 2016 7:20 PM ET USA

Yves Simon is not as well known as he should be on this topic. I highly recommend his work on the topic of the Common Good.

Posted by: loumiamo - Feb. 22, 2016 7:04 PM ET USA

The paradox of the common good is that while the group may not sacrifice an individual for its own benefit, an individual may sacrifice himself for the group's benefit. Ultimately advancing the common good is a triumph of the individual and not of the collective. But try explaining that to a Marxist, or any other kind of big government supporter, whether he be inside or outside the Church.