Civility in its Proper Context
By Dr. Jeff Mirus ( bio - articles - email ) | Jan 23, 2008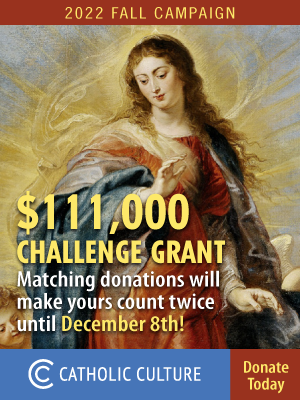 Back in November of 2007, the Catholic Civility Project released "A Catholic Call to Observe Civility in Political Debate." The effect of this statement, perhaps unintended by some of the signatories, was to discourage Catholic laymen and ecclesiastics alike from making specifically Catholic judgments on those politicians who espouse positions contrary to Church teaching.
None of us at Trinity Communications liked this call to "Catholic Civility" very much (see The High Cost of Political Civility). Fortunately, a very different group of prominent lay Catholics has now issued a statement of its own, repudiating Catholic politicians who dissent from Church teaching on key moral issues. "We believe the effect of the 'Call for Civility' would be to silence the pro-life and pro-family movements," they said. "We oppose this effort root and branch."
The new statement, entitled A Catholic Response to the "Call for Civility" was issued on January 22nd by a group of ninety-six prominent Catholic writers and organizational heads under the name of Catholic Laymen in the Public Square. Their ten-point statement points out that no one would call for civility in the face of politicians who advocate segregation, slavery or wars of conquest, or who argue that the poor should be left to their own devices because they are undeserving. Civility is demanded only for abortion and its related life and sexuality issues.
Comparing the fight against abortion to William Wilberforce's fight in Britain to end the slave trade, the statement argues that abortion not only takes innocent lives but poisons "American political discourse and our politics" just as the slave trade did until its abolition in 1807. "Progress will not be made on other important but prudential issues about which well-intentioned people may disagree civilly unless and until the Culture of Death is as much a part of history as the slave trade."
The signatories conclude that they will feel free to "condemn the public policy positions of Catholic politicians who support abortion, embryo-destructive research, and homosexual marriage" and they will "support bishops who move strongly to eliminate their grave public scandal."
In addition to the heads of many Catholic and public service organizations, the signatories include such Catholic writers as Dawn Eden, James Hitchcock, Jim Holman, Peter Kreeft, George Marlin, William May, David Mills, George Neumayr, Michael Novak, Robert Royal, Russell Shaw, Donna Steichen, Joseph Varacalli, Paul Vitz, Kenneth Whitehead, and Thomas Woods.
Sound Off!
CatholicCulture.org supporters weigh in.
All comments are moderated. To lighten our editing burden, only current donors are allowed to Sound Off. If you are a current donor, log in to see the comment form; otherwise please support our work, and Sound Off!