Church on the Prowl: The Lion Tamer's Lament
By Dr. Jeff Mirus ( bio - articles - email ) | Oct 21, 2009
I'm telling you, things are getting a little wild. First the Vatican observer at the UN offices in Geneva answered criticisms on the sex abuse scandal by telling everyone that the real abuse behind the scandal is homosexuality, and by telling other organizations to do as much to get their act together as the Church has done (see The abuse is homosexuality).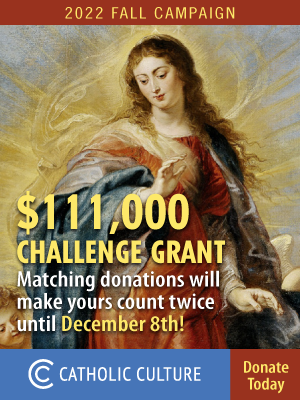 Then the Vatican observer at the UN in New York, Archbishop Celestino Migliore, warned the General Assembly against the abuse of power, especially in making aid dependent on secularist behavioral changes (see Speaking truth to power).
Then, last Friday, a Vatican diplomat turned up the heat by rebuking a major European assembly for the false use of the idea of tolerance.
And on Monday Archbishop Migliore was back in action, taking advantage of a review of the results of the 1994 Cairo Conference to point out that all "population bomb" theories have been discredited, and that the Vatican has been proved right over the past fifteen years in its consistent assertion that population growth is essential to sound development.
Now combine all this undiplomatic diplomacy with the two very strong appointments in the curia announced last Saturday (see Making people squirm) and with the Vatican's even bolder preemptive strike yesterday in welcoming the efforts of local Anglican congregations to reunite with Rome (The Pope's bold invitation to Anglicans).
And let's not forget the Apostolic Visitation of American women religious, which actually has a web site complete with contact information that even a poor layman can use to tell his horror stories: http://apostolicvisitation.org/en/index.html.
Now stop. I thought we had all this under control. In the good old days the Vatican was so predictable that we critics could earn our bread mostly by recycling old articles. If this keeps up, how am I supposed to eat?
Sigh. Apparently C. S. Lewis was right all along. Aslan is not a tame lion—neither in His Heaven nor in His Church.
Sound Off!
CatholicCulture.org supporters weigh in.
All comments are moderated. To lighten our editing burden, only current donors are allowed to Sound Off. If you are a current donor, log in to see the comment form; otherwise please support our work, and Sound Off!
Posted by: - Oct. 21, 2009 9:41 PM ET USA

Yes, we've been wandering in the wilderness for many years--but it appears that that the long awaited sanity has arrived!