Catholics United for Partisan Politics
By Phil Lawler ( bio - articles - email ) | Oct 14, 2009
A group that calls itself Catholics United for the Common Good is heaping fulsome praise on Maine's Senator Olympia Snowe for her "courageous" finance-committee vote to approve the health-care reform bill.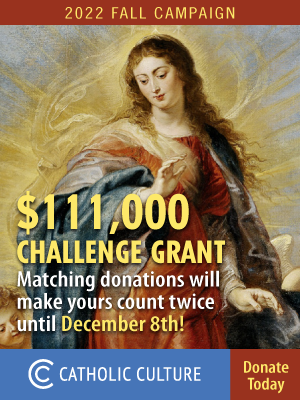 Let's assume, for the sake of the argument, that this legislation is desirable. Still, why would a Catholic group single out Senator Snowe for praise?
Was she the only lawmaker to support the bill? No; 13 other committee members voted in its favor.
Did she cast the deciding vote? No; it passed by a comfortable 14-9 margin.
Is she a Catholic? No; she's Greek Orthodox. The Catholics on the committee didn't win this sort of bouquet from Catholics United.
So what made Senator Snowe so special-- so singularly worthy of praise? What made her unique?
Answer: She was the only Republican to vote for the bill.
Now why would a non-partisan Catholic organization lead the cheers for a Republican who broke ranks with her GOP colleagues and joined the Democratic majority in a lopsided vote?
Answer: A non-partisan organization wouldn't do it. But Catholics United did. Draw your own conclusions.
Sound Off!
CatholicCulture.org supporters weigh in.
All comments are moderated. To lighten our editing burden, only current donors are allowed to Sound Off. If you are a current donor, log in to see the comment form; otherwise please support our work, and Sound Off!
Posted by: - Oct. 16, 2009 6:04 PM ET USA

There has been a kernel of an idea splashing about in my mind, and I don't know if there is any like sentiment in the country. I think its time has come when christians come together and begin making time to pray for our beloved country. Other times in the world's history there have been critical moments when evil was inundating nations. It's time to get together and pray the rosary at identical hours so our prayers can have the force of numbers. Let me know if the idea has merit.