Archbishop Gregory promises us the truth. Here's how...
By Phil Lawler ( bio - articles - email ) | Apr 04, 2019
At today's press conference formally announcing his appointment to head the Archdiocese of Washington, DC, Archbishop Wilton Gregory promised: "I will always tell you the truth as I understand it." Good. "The only way I can serve this archdiocese is by telling the truth," he said. Good, good.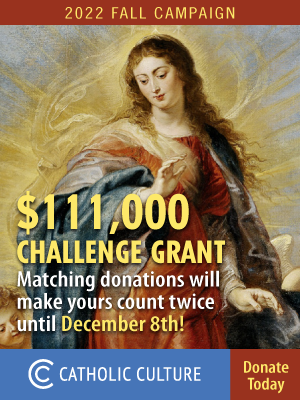 In February 2004, in his capacity as president of the US bishops' conference, then-Bishop Gregory released a report on the scope of the sex-abuse scandal in the US. "The terrible history recorded here today," he said, gesturing toward the report on the scandal, "is history." History, yes. But it wasn't past history.
During that press conference Bishop Gregory assured the faithful that the bishops were "doing everything possible to see that it does not happen again." The press conference was held in Washington, DC—an archdiocese led at the time by Theodore McCarrick. At the time, there were some truths—plenty of them, actually—that our bishops weren't ready to tell us.
And now? In the middle of his new archdiocese, Archbishop Gregory will find the office of the Vatican nuncio, whose files could provide conclusive answer to the questions (raised by Archbishop Vigano, who once served there) about how McCarrick rose to power and kept his position despite reports of flagrant immorality. When the new archbishop calls for the opening of those files, we'll know he's committed to giving us the truth.
Sound Off!
CatholicCulture.org supporters weigh in.
All comments are moderated. To lighten our editing burden, only current donors are allowed to Sound Off. If you are a current donor, log in to see the comment form; otherwise please support our work, and Sound Off!