Apart from that, Mrs. Lincoln, how did you like the play?
By Diogenes ( articles ) | May 19, 2003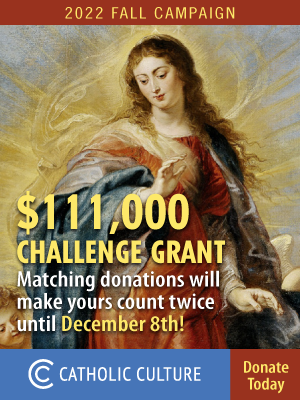 Once upon a time, boys and girls, there was an Irish priest whose name was Patrick J. Lynch. Fr. Pat worked in Dallas, Texas. Fr. Pat was sexually involved with several elementary school students over a period of thirty years. Fr. Pat's bishop sent him off for a rest, and a psychologist said he had a "serious personality pathology." So then what happened?
Despite these warnings, Bishop Grahmann then let him retire in good standing -- a status that permits continued ministry. Father Lynch moved overseas with an upbeat letter from the bishop that made no mention of abuse.

"I commend you," the bishop wrote, "on doing such a great job for the people of the diocese."
The pastoral approach!
Bishop Grahmann, in the name of grade school children everywhere, I commend you on doing such a great job for the people of the diocese.
Sound Off!
CatholicCulture.org supporters weigh in.
All comments are moderated. To lighten our editing burden, only current donors are allowed to Sound Off. If you are a current donor, log in to see the comment form; otherwise please support our work, and Sound Off!