Another bit of fallout from the Pope's interview
By Phil Lawler ( bio - articles - email ) | Sep 25, 2013
My friend Ed* wanted to talk with me yesterday about the Pope's interview.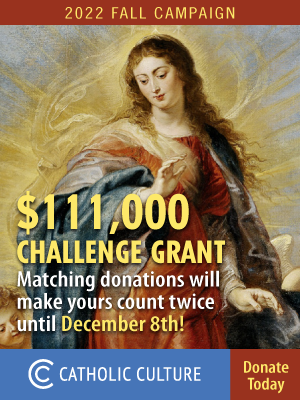 Ed and I run into each other regularly, 3 or 4 times a week, in the course of our everyday work. I wouldn't say that we're close friends—we rarely see each other apart from our business dealings—but he's a very likable guy, and when we meet we usually chat for a few minutes. Sometimes we talk about politics (we tend to see things the same way); more often we just kid each other a bit and go our separate ways.
But yesterday, as I said, Ed wanted to talk about the Pope. Ed—who describes himself as a serious Christian, but with no denominational ties—was all excited. He told me that he couldn't remember being so excited about anything a religious leader had said.
Now here's what I find interesting, looking back on our conversation:
Ed didn't want to talk about abortion. (As a matter of fact we'd talked about that before.)
He didn't want to talk about same-sex marriage. (We'd talked about that, too.)
Ed wanted to talk about Jesus Christ. To my shame, we'd never talked about Him.
Think about it: Ed isn't likely to procure an abortion, or enter into a homosexual alliance. But he is a child of God, who has a personal relationship with Jesus that could and should be improved. So am I. How is it that in hundreds of friendly chats over more than a decade, the subject had never come up before?
Pope Francis didn't say that we should stop talking about abortion and homosexuality. He said that "it is not necessary to talk about these issues all the time." Amen.
* - Ed is not his real name
Sound Off!
CatholicCulture.org supporters weigh in.
All comments are moderated. To lighten our editing burden, only current donors are allowed to Sound Off. If you are a current donor, log in to see the comment form; otherwise please support our work, and Sound Off!