400 priests defrocked for abuse? There's more to the story
By Phil Lawler ( bio - articles - email ) | Jan 20, 2014
Some thoughts on the story that AP broke late Friday afternoon, reporting that Pope Benedict had approved the laicization of nearly 400 priests during the last 2 years of his pontificate: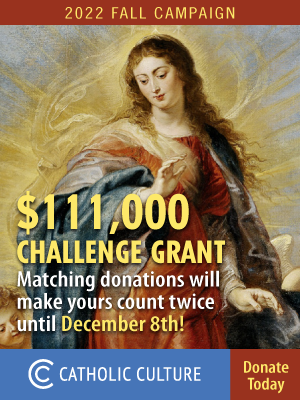 Sound Off!
CatholicCulture.org supporters weigh in.
All comments are moderated. To lighten our editing burden, only current donors are allowed to Sound Off. If you are a current donor, log in to see the comment form; otherwise please support our work, and Sound Off!
Posted by: Don Vicente - Jan. 21, 2014 7:11 PM ET USA

As to point 4: If someone is court-martialed and thrown out of the armed forces for misconduct, it is ILLEGAL for the service to follow up on that person. Once separated from the service, the service cannot keep tabs on him. Same thing with the Church.

Posted by: shrink - Jan. 21, 2014 12:02 PM ET USA

All of the "solutions" to the gay priest problem revolve around civil or canonical remedies. The Church is a spiritual society, so why not a spiritual remedy. Penance is a spiritual remedy. Defrocking is only a punishment, but it need not be a penance or remedy. Sin requires penance and punishment. Here's a positively medieval and penitential solution: have the homosexual offenders retire to a monastic hermitage and live the remainder of their life in prayer and fasting. signed: Peter Damian

Posted by: jg23753479 - Jan. 21, 2014 8:05 AM ET USA

It would seem by Ms Goodstein's standard of judgement, the Church is damned if it does and equally damned if it doesn't. As for civil authorities, how many cases did we encounter where law enforcement officials actually abetted a chancery's cover-up for one reason or another? I'd say there were almost too many to count.

Posted by: polish.pinecone4371 - Jan. 20, 2014 10:27 PM ET USA

On number 4, it's really interesting what happens -- bishops get read the riot act when they don't laicize priests who have committed this horror. But now that it's revealed that they are being laicized en masse, the Church is criticized for not keeping track of them. Rock and hard place, anyone?