Catholic World News
Philippine prelate advises: abstain from marital relations during Lent
March 16, 2011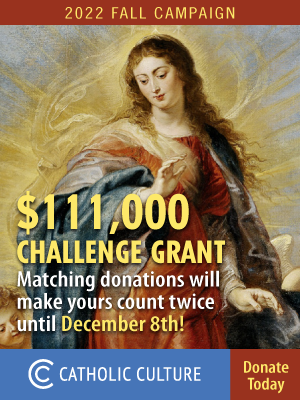 A Philippine prelate is advising spouses to abstain from marital relations during Lent, according to one of the nation's leading newspapers.
"That is their own decision… but we encourage it," said Archbishop Paciano Aniceto of Pampanga, chairman of the Philippine bishops' commission on family and life. "It's in the Bible that the Jewish priest cannot officiate in the Holy of Holies unless he abstains from conjugal act with the wife."
The archbishop's statement is reminiscent of that of the Roman Catechism (Catechism of the Council of Trent, 1566), which advised frequent abstinence from marital relations during Lent. "As every blessing is to be obtained from God by holy prayer, the faithful are also to be taught sometimes to abstain from the marriage debt, in order to devote themselves to prayer," the catechism taught. "Let the faithful understand that this religious continence, according to the proper and holy injunction of our predecessors, is particularly to be observed for at least three days before Communion, and oftener during the solemn fast of Lent."
In 1905, the Sacred Congregation of the Council, with the approval of Pope St. Pius X, recommended daily reception of Holy Communion and taught that "to such a degree, indeed, was rigorism carried that whole classes of persons were excluded from a frequent approach to the Holy Table, for instance, merchants or those who were married."
---
For all current news, visit our News home page.
---
Further information:
Sound Off!
CatholicCulture.org supporters weigh in.
All comments are moderated. To lighten our editing burden, only current donors are allowed to Sound Off. If you are a current donor, log in to see the comment form; otherwise please support our work, and Sound Off!
Posted by: AgnesDay - Mar. 16, 2011 3:42 PM ET USA

ExtremeCatholic--analogously, one would say that fasting imputes a sense of shame or mere sensual gratification from food. I don't think so. Fasting and forms of abstinence were always seen in the light of foregoing a good for the sake of the Kingdom of God.

Posted by: extremeCatholic - Mar. 16, 2011 8:36 AM ET USA

There are good reasons why one has to reach back five centuries to find the Church suggesting that abstinence from marital relations is a suitable Lenten act of self-denial: (a) it a suggestion which in their state in life, bishops and priests cannot imitate in an analogous way (b) the potential to divide married couples when one does/one does not want to abstain (c) it (again) imputes a sense of shame or mere sensual gratification to the marital act which is correctable by abstinence.