Catholic World News
Pope's book offers approach to conversion of Jews
March 11, 2011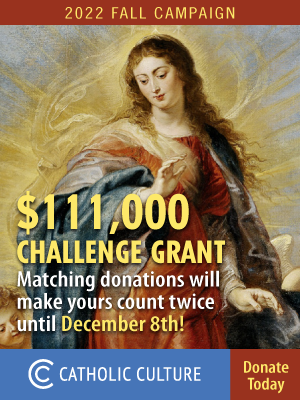 In his new book—the 2nd volume of his work Jesus of Nazareth—Pope Benedict XVI writes that Catholics should not seek the incorporation of the Jewish people into the Church.
"Israel is in the hands of God, who will save it 'as a whole' at the proper time, when the number of Gentiles is full," the pope writes. He says that Christians should "wait for the time fixed for this by God" rather than attempting to convert the Jewish people.
While the Pope affirms that salvation only comes through Jesus Christ, he argues that the mission of the Church is primarily to the Gentiles, and cites the belief of St. Bernard that God will bring Jews into the fold at a time "that cannot be anticipated."
The Pope acknowledges that efforts by Christians to convert Jews have caused severe problems over the centuries. Although he does not propose to place limits on evangelization, or discourage individual conversions, he does say that Christians should not target Jews specifically for conversion. The Pope's thoughts—advanced in a book that he takes pains to identify as his personal opinion rather than a magisterial teaching document—will bring new attention to the debate on whether God's covenant with the Jews endures, even after the establishment of the New Covenant. The Pope himself has rejected that view. Still Rabbi Eugene Korn, a specialist on interfaith dialogue, sees the Pope's approach in his new book as an important development that "takes the practical threat out of Christian supersessionism for Jews today."
---
For all current news, visit our News home page.
---
Further information:
Sound Off!
CatholicCulture.org supporters weigh in.
All comments are moderated. To lighten our editing burden, only current donors are allowed to Sound Off. If you are a current donor, log in to see the comment form; otherwise please support our work, and Sound Off!
Posted by: Minnesota Mary - Mar. 11, 2011 9:06 PM ET USA

"Then Jesus replied, 'I have been sent only to the lost sheep of the people of Israel.'" Matt 15:24 "Go, then, to all peoples everywhere and make them my disciples..." Matt 28:19 I don't see anything here that says we are to exclude the Jews from evangelization. What is the Biblical basis for the Pope's opinion here? Thank heavens Pope Benedict isn't making his opinion a magisterial teaching. I think Christ made known his wishes regarding Israel quite plain and unambiguous.

Posted by: Lucius49 - Mar. 11, 2011 7:41 PM ET USA

The Pope's remarks are nuanced but as usual nuance will escape many. He speaks about an incorporation on masse because he is cognizant of Romans and the future conversion of Israel. He does not say there is no mission to Jews as individuals and he does not as Rabbi Korn suggest support a two covenant theory of salvation. The Church still sees herself as the true Israel and the fulfillment of the old covenant. I would like to know Rabbi Korn's perception of a threat in 2011.