Catholic World News
Egypt recalls Vatican ambassador, protesting Pope's remarks
January 11, 2011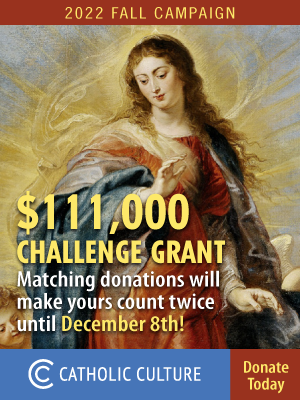 The government of Egypt has recalled its ambassador to the holy See, in protest against Pope Benedict's charge that Egypt had not done enough to protect Christians from mob violence.
In his annual address to the Vatican diplomatic corps, delivered on January 10, Pope Benedict decried the attacks on Christians in Iraq, Egypt, and Nigeria in recent days, saying that governments must provide security for Christians. Egypt's foreign ministry said that the Pope's remarks were "an unacceptable interference in its internal affairs."
---
For all current news, visit our News home page.
---
Further information:
Sound Off!
CatholicCulture.org supporters weigh in.
All comments are moderated. To lighten our editing burden, only current donors are allowed to Sound Off. If you are a current donor, log in to see the comment form; otherwise please support our work, and Sound Off!
Posted by: a son of Mary - Jan. 12, 2011 3:29 AM ET USA

Egypt- Yet another snarling immature country that cannot admit its long history of transgressions against its own people. Egypt - Birthplace of the Muslim Brotherhood. And you think Communism is bad? All over the USA now. Egypt - Can't fix a toilet in a church without government permission. Can take DECADES!!! Egypt - The other 1/2 of the Israeli multi-billion $ yearly foreign "aid" package. Egypt - Don't be a tourist Solution - call/write your Reps and Senators - speak up for your brothers!

Posted by: - Jan. 11, 2011 8:04 PM ET USA

I guess the Egypt government missed the meaning of the word Pope. His children are at risk, and a good father intervenes. There are no 'internal affairs' when one's children are in danger.

Posted by: Justin8110 - Jan. 11, 2011 5:23 PM ET USA

The welfare of Catholics and in fact even Christians outside the Church are worthy of the attention of the Holy Ftaher and not just a political affair. Egypt reacts the way it does because at its heart it is a Muslim nation and as such could care less about Christians, be they Catholic, Copt or otherwise since in Islam it it permitted to do practically whatever you want to do with those who do not believe in your God. I'm glad the Pontiff spoke up.