Catholic World News
Papal Christmas liturgies available online
December 23, 2010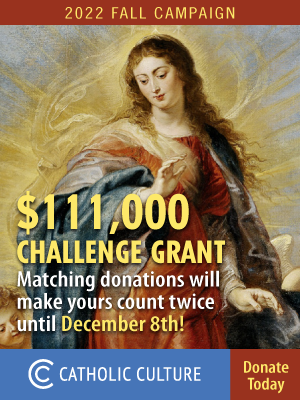 The Vatican is making the Christmas liturgical celebrations of Pope Benedict XVI available online this year, with live coverage on three web sites.
The Vatican Television Centre, in cooperation with Telecom Italia, will offer coverage of the midnight Mass from St. Peter's basilica on Christmas Eve, the Urbi et Orbi blessing at noon on Christmas Day, and the Mass for World Peace on New Year's Day. (See links below)
The broadcasts will offer commentary in Italian, French, English, German, Spanish and Portuguese. For the midnight Mass, Chinese commentary will also be available; on New Year's Day, Arabic will be added.
The broadcasts will be available on the web sites of Vatican Radio, the Pontifical Council for Social Communications, and the "Pope to You" site.
---
For all current news, visit our News home page.
---
Further information:
Sound Off!
CatholicCulture.org supporters weigh in.
All comments are moderated. To lighten our editing burden, only current donors are allowed to Sound Off. If you are a current donor, log in to see the comment form; otherwise please support our work, and Sound Off!