Catholic World News
Misguided compassion fueled sex-abuse scandal in Ireland
December 21, 2010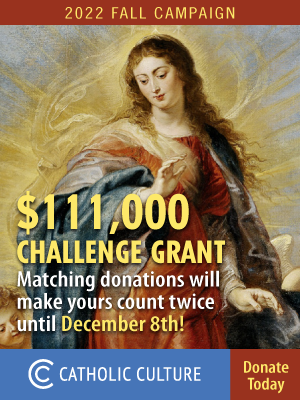 The sex-abuse scandal in Ireland is partly attributable to a misguided compassion, which led Church officials to downplay the evidence of clerical misconduct, a leading Irish Catholic analyst argues.
David Quinn notes Chapter 19 of the Murphy Commission report on abuse in the Dublin archdiocese shows the influence of Msgr. Gerard Sheehy, the top canon lawyer for the archdiocese, who argued persistently against disciplinary action in the case of Tony Walsh, a notorious pedophile.
(Chapter 19 of the Murphy Report had been withheld from publication until the conclusion of criminal proceedings against Walsh. The chapter was made public last week after Walsh— who had served a previous jail term, and been removed from the priesthood because of his record of molesting children-- was convicted on new sex-abuse charges.)
Quinn argues that Msgr. Sheehy's approach, based on the assumption that pedophiles should be more pitied than punished, was a major factor in the response to sex-abuse complaints for years. He writes:
This is the era when the 'compassionate' Sheehy view was most dominant and it is the era in which clerical child abusers were most likely to go unchecked. The same view appears to have prevailed in the Roman Rota and was only brought to an end when Cardinal Ratzinger finally got his way in 2001.
Quinn cites a "very revealing" passage in the Murphy Report, quoting notes in which Msgr. Sheehy condemns the "outrageous suggestion" that then-Archbishop Desmond Connell should inform law-enforcement officials about Walsh's preying on children.
On the basis of the events reported in Chapter 19, Quinn observes, Cardinal Connell has been undeservedly condemned for his failure to punish predatory priests. Quinn argues that a more appropriate focus of criticism would be the late Archbishop Dermot Ryan, who headed the Dublin archdiocese from 1981 to 1984, and was "utterly complacent about the abuse of children throughout the 1970s when the scandals were at their worst."
---
For all current news, visit our News home page.
---
Further information:
Sound Off!
CatholicCulture.org supporters weigh in.
All comments are moderated. To lighten our editing burden, only current donors are allowed to Sound Off. If you are a current donor, log in to see the comment form; otherwise please support our work, and Sound Off!
Posted by: happyseaotter8027 - Dec. 21, 2010 10:14 PM ET USA

There is something very troubling about Msgr. Sheeny's compassion for the paedophile priest. Simply put, what about some compassion for the children who were most likely irrevocably damaged by their experience(s)? We should have compassion for paedophile priests, but our first priority must always be the children who are being victimized. Stop the abuse first; then provide treatment for all involved. And inform the authorities!!