Catholic World News
Journalist warns against election of Bishop Kicanas as USCCB president
November 11, 2010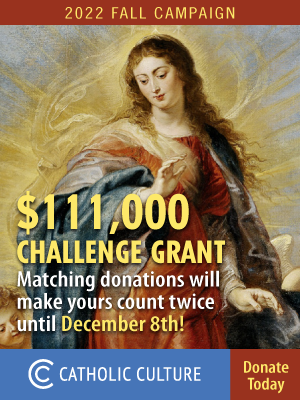 Tim Drake, senior writer for the National Catholic Register, is warning that the election of Bishop Gerald Kicanas of Tucson as president of the United States Conference of Catholic Bishops (USCCB) would be a public relations disaster for the Church.
Bishop Kicanas is currently the conference's vice president, and the vice president is typically elected president. The USCCB will elect a new president at its November 15-18 meeting; among the ten candidates are Archbishop Timothy Dolan of New York, Archbishop Edwin O'Brien of Baltimore, Archbishop Allen Vigneron of Detroit, and Archbishop Charles Chaput of Denver.
Drake writes:
Bishop Kicanas' election is a potential powder keg. In his story, "Sex Abuse Lurks Behind Catholic Election," Chip Mitchell [of WBEZ, Chicago Public Radio] tells the horrific story of Father Daniel McCormack, who molested at least 23 boys. The story demonstrates that Bishop Kicanas, while rector of Chicago's Mundelein Seminary, was aware of accusations of sexual misconduct against McCormack, but chose to ordain him anyway.

Asked about it, Bishop Kicanas essentially said that he would do it again.

"It would have been grossly unfair not to have ordained him," Bishop Kicanas said shortly after being elected as vice president of the USCCB, in a quote that appears in the deposition of Cardinal Francis George. "There was a sense that his activity was part of the developmental process and that he had learned from the experience," continued Bishop Kicanas. "I was more concerned about his drinking. We sent him to counseling for that."
---
For all current news, visit our News home page.
---
Further information:
Sound Off!
CatholicCulture.org supporters weigh in.
All comments are moderated. To lighten our editing burden, only current donors are allowed to Sound Off. If you are a current donor, log in to see the comment form; otherwise please support our work, and Sound Off!
Posted by: Obregon - Nov. 12, 2010 12:50 AM ET USA

In the era of Pope Benedict XVI and the "reform of the reform," I don't see how a Kicanas can be elected president of the National Conference of Catholic Bishops. Chaput or Vigneron should be elected since they are more in line with the present reform of the Church.

Posted by: sky6a415 - Nov. 11, 2010 11:54 PM ET USA

Please stop with the Kicanas bashing. I've been a priest for 40 years and Bishop Kicanas has been my bishop for the past 9 years. He is extrememly dedicated, very pastoral, and in my opinion a great leader. His comments to a reporter about decisions made 15 years ago can be interpreted through a variety of filters. To many people don't know all the cricumstances and don't know the man yet make negative judgements. He has earned my respect. The 8th commandmentapplies. Sky6a

Posted by: lauriem5377 - Nov. 11, 2010 8:47 PM ET USA

We should never be ashamed to be Roman Catholic since we are the church Jesus founded. We should always pray and work for peace and justice.

Posted by: Ken - Nov. 11, 2010 3:22 PM ET USA

Things like this make me ashamed to say I am Roman Catholic. Not until all priests and bishops who either participated in this scandal or protected those who did are out of the church will be have a clean soul as a divine institution.

Posted by: Minnesota Mary - Nov. 11, 2010 12:52 PM ET USA

If Bishop Kicanas is elected head of the USCCB, then it proves that this conference should be disbanded.