Catholic World News
US bishops, Reformed communities move towards mutual recognition of baptism
October 29, 2010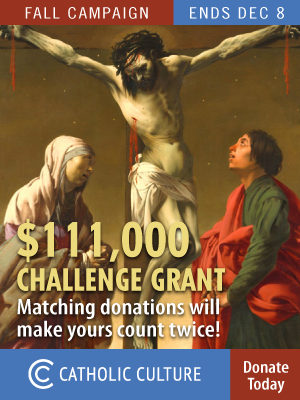 The United States Conference of Catholic Bishops (USCCB) and four Reformed ecclesial communities-- the Christian Reformed Church in North America, the Presbyterian Church-USA, the Reformed Church in America, the United Church of Christ-- are moving towards an official recognition of one another's baptisms. Inspired by the theology of John Calvin, the Reformed communities arose in the sixteenth century.
The seventh round of the official Catholic-Reformed dialogue in the United States, which concluded on October 8, produced two documents: "These Living Waters: Common Agreement on Mutual Recognition of Baptism" and "This Bread of Life" (on the Eucharist or Lord's Supper). The latter document explores the convergences and divergences of Catholic and Reformed teaching on the Eucharist.
At its November meeting, the United States Conference of Catholic Bishops will decide whether to approve the common agreement on baptism.
"Such a common agreement was first proposed by Cardinal Walter Kasper of the Pontifical Council for the Promotion of Christian Unity in 2002," according to a USCCB press release. Even earlier, in 1993, the Pontifical Council for Promoting Christian Unity's Directory for the Application of Principles and Norms on Ecumenism stated:
It is strongly recommended that the dialogue concerning both the significance and the valid celebration of baptism take place between Catholic authorities and those of other Churches and ecclesial Communities at the diocesan or Episcopal Conference levels. Thus it should be possible to arrive at common statements through which they express mutual recognition of baptisms as well as procedures for considering cases in which a doubt may arise as to the validity of a particular baptism.
---
For all current news, visit our News home page.
---
Further information:
Sound Off!
CatholicCulture.org supporters weigh in.
All comments are moderated. To lighten our editing burden, only current donors are allowed to Sound Off. If you are a current donor, log in to see the comment form; otherwise please support our work, and Sound Off!
Posted by: garedawg - Oct. 29, 2010 11:00 AM ET USA

Big deal. I was baptized over 40 years ago in the Presbyterian church. When I was received into the Catholic Church a few years ago, I didn't have to be "rebaptized", because I was able to produce my original baptismal certificate. I thought this had been settled back in the days of St. Augustine.