Catholic World News
Catholic colleges weakening students' faith, new study finds
February 02, 2010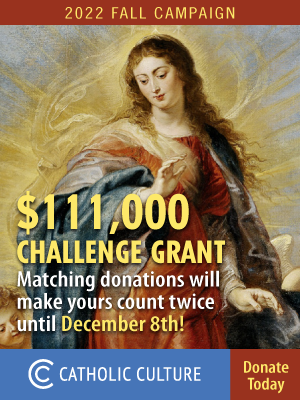 Catholic students who attend Catholic colleges and universities in the US are more likely to move away from the faith than to deepen their commitment, a new study shows.
The study found that 32% of Catholic students at Catholic schools attend Mass less frequently by the time they graduate, while only 7% attend more frequently. Roughly 8% of the graduates reported leaving the Catholic faith during their college years, while students who had entered the Catholic Church during their college years accounted for only 4% of the graduates. The survey found a strong trend away from accord with Church teachings on issues such as abortion and same-sex unions. The new study by Georgetown's Center for Applied Research in the Apostolate (CARA) largely confirms previous reports from the Cardinal Newman Society calling attention to a "crisis in Catholic higher education." "Catholics should be alarmed by the significant declines in Catholic practice and fidelity at many of America's Catholic institutions," said Patrick Reilly, the resident of The Cardinal Newman Society. The authors of the CARA report agreed: "Regardless of where students begin their college journey, Catholic colleges should be helping students move closer to Christ, and certainly doing a better job of moving students toward the Catholic faith than secular colleges do."
---
For all current news, visit our News home page.
---
Further information:
Sound Off!
CatholicCulture.org supporters weigh in.
All comments are moderated. To lighten our editing burden, only current donors are allowed to Sound Off. If you are a current donor, log in to see the comment form; otherwise please support our work, and Sound Off!
Posted by: Den - Feb. 02, 2010 5:37 PM ET USA

Yes indeed. I sent two daughters to Catholic colleges and they graduated less Catholic than when they entered. I felt cheated.

Posted by: Minnesota Mary - Feb. 02, 2010 5:28 PM ET USA

"Raise up a child in the way of the Lord and he/she will not depart from it." Proverbs Unfortunately, by the time most of these kids get to college it's too late to deepen their faith because they received none in the lousy religious education courses they received in grade school and highschool. Their parents didn't learn the Faith either.

Posted by: - Feb. 02, 2010 4:17 PM ET USA

I wonder how comparable Protestant colleges, like Bob Jones University, fare in this respect. Better, worse, same? There are many factors impacting college-age people that affect faith, most for the worse.