Catholic World News
Conflicting interpretations of Cardinal Schönborn's 'private' visit to Medjugorje
December 31, 2009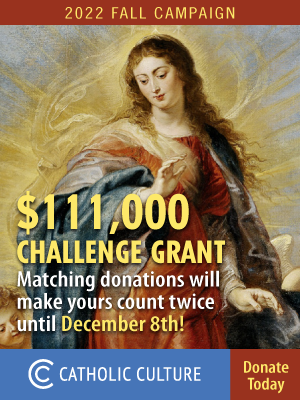 Cardinal Christoph Schönborn of Vienna has been in Medjugorje this week, on a visit to the site where the Virgin Mary has allegedly been appearing regularly since 1981. The cardinal met with some of the "seers" who claim to receive regular messages from the Virgin, and celebrated Mass at the Medjugorje parish church.
The Austrian cardinal has been careful to emphasize that he is making a "private" visit, not endorsing the authenticity of the reported apparitions nor violating the official Church policy that discourages pilgrimages to Medjugorje. Nevertheless Cardinal Schönborn's visit has been viewed by supporters of the Medjugorje "seers" as a tacit endorsement—particularly when the cardinal said that it is impossible to deny the "good fruits" of the Medjugorje phenomenon and observed that some events defy a natural explanation.
It is possible to put an entirely different construction on the cardinal's visit, however. Cardinal Schönborn is a member of the Congregation for the Doctrine of the Faith, which is reportedly studying the Medjugorje phenomenon, and may be collecting information to help form a definitive Vatican stand regarding the reported apparitions. Cardinal Schönborn has unquestioned influence at the Vatican; he is a former student and close ally of Pope Benedict, who chaired the editorial committee that prepared the Catechism of the Catholic Church.
---
For all current news, visit our News home page.
---
Further information:
Sound Off!
CatholicCulture.org supporters weigh in.
All comments are moderated. To lighten our editing burden, only current donors are allowed to Sound Off. If you are a current donor, log in to see the comment form; otherwise please support our work, and Sound Off!
Posted by: laurieolsen3829 - Jan. 03, 2010 3:07 AM ET USA

On 1 Dec 2002, in St. Stephen's Cathedral in Vienna, Cardinal Schonborn said: "I do not wish to express an opinion on Medjugorje from the point of view of a judgment of the Church. There is, however, one thing I can observe, over and over again, namely, that this is a place where an intensive mission-station of heaven obviously exists, where thousands upon thousands of people find prayer, confession, conversion, reconciliation, healing and deeper faith." Consider his visit in light of that.

Posted by: EiLL - Jan. 02, 2010 10:00 PM ET USA

Can it be that if we are allowed to visit this place, with the intent of listening to God, that we are blessed? I journeyed to Medjugorje to draw near to God. This pilgrimage was my first, and I also visited our family farm where my grandfather grew up, which was located an hour and a half from the village. I did not go for miracles or the supernatural, but I did come away with two gifts: an appreciation for the sufferings of Christ, and a female role model - Jesus' ever faithful mother - Mary.

Posted by: Lilacs2me - Dec. 31, 2009 7:53 PM ET USA

The Vatican has/will defer to the two bishops of Mostar-Duvno in this matter. Bshp Zanic & unanimously the then Yugoslavian bishops conference said they could not determine if it was supernatural. Bshp Peric stated it more succinctly: Nothing supernatural is happening there! What about the BAD fruit: disobedience, lying, priests having faculties removed & defrocked, religious orders & even churches set up without bishop's approval, etc. This doesn't sound like from heaven to me!

Posted by: padrecatolico - Dec. 31, 2009 6:34 PM ET USA

Pilgrimages to Medjugorje are allowed as long as they are not official. The Congregation for the Faith stated this on Sept 24, 1998 as published in Zenit.org. I personally heard Cardinal Schonborn state at the priest retreat in Ars (Sept 09) that we can go to Medjugorje as pilgrims.

Posted by: Te_Deum - Dec. 31, 2009 4:09 PM ET USA

It's unusual that the Cardinal would also have given alleged visionaries of the unapproved apparitions of Medjugorje access to his Cathedral in Vienna recently (where, I might add, a "seer" had visions in front of a packed church. It flies in the face of protocol.

Posted by: skladach - Dec. 31, 2009 11:27 AM ET USA

The unusually large parish church in Medjugorje was a place of regional 8/15 pilgrimages for decades before the "visions and locutions" started. So of course there will be good spiritual fruits, just as there are at the Miraculous Medal Shrine in Philadelphia. That does not put the Church's imprimatur on all the "preaching" that one occasionally hears from a few flaky priests at the latter shrine, nor on the "phenomena" at the former.