Catholic World News
White House: Bishops wrong in asserting that health reform legislation will fund abortions
October 13, 2009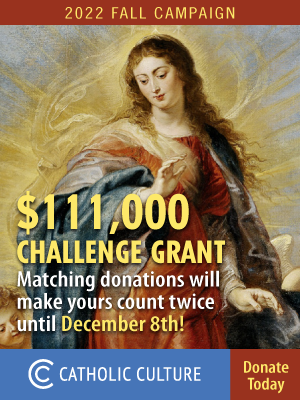 White House Press Secretary Robert Gibbs has said twice in the last week that the United States Conference of Catholic Bishops (USCCB) is incorrect in asserting that health reform legislation will fund abortions.
Asked on October 7 to comment on the bishops' statement that "the health reform bills considered in committee, including the new Senate Finance Committee bill, have not met President Obama's challenge of barring use of federal dollars for abortion," Gibbs responded, "I would mention there's a law that precludes the use of federal funds for abortion that isn't going to be changed in these health care bills."
Gibbs again told CNSNews.com on October 9 that "there may be a legal interpretation that has been lost here, but there's a fairly clear federal law prohibiting the federal use of money for abortion."
CNSNews.com notes:
The "law" Gibbs was referring to is the Hyde Amendment, which has been included in each year's annual Health and Human Services Appropriation since fiscal 1977. This amendment prohibits funding of abortion only in that particular fiscal year and only among funds appropriated through that particular bill.

The programs being set up by the health-care bill under consideration in Congress would not be funded through the annual HHS appropriations bill and would not be subject to the Hyde amendment--even if Congress deems to include the Hyde Amendment in future-year HHS appropriations bills.

The White House is nonetheless sticking to its assertions that the Hyde Amendment does apply to the health care bill even though the non-partisan watchdog group FactCheck.org has determined the health care legislation would allow for federal funding of abortions and the non-partisan Congressional Research Service has produced a memo that says the insurance subsidies instituted by the plan would not go through the annual HHS appropriation.

"As for the House bill as it stands now, it's a matter of fact that it would allow both a 'public plan' and newly subsidized private plans to cover all abortions," said an Aug. 21 analysis from FactCheck.org.
---
For all current news, visit our News home page.
---
Further information:
Sound Off!
CatholicCulture.org supporters weigh in.
All comments are moderated. To lighten our editing burden, only current donors are allowed to Sound Off. If you are a current donor, log in to see the comment form; otherwise please support our work, and Sound Off!
Posted by: William F. Folger - Oct. 14, 2009 7:58 AM ET USA

Having asked the USCCB if "longstanding federal law" conscience protections they do support include the NEEDED "Bush" conscience-protections, they would not reply. They can't: Bush regs started ONLY in JAN. & are now in Obama-run Hospice. Given Gibbs' DOUBLE claims, if both Johnson of NRLC & Dr. Yoest, Ph D, of AUL.org are wrong & Obama THE sharpie on HYDE, we are seeing Obama's 1st bold step to induce USCCB to trade "no" H-C abortions for USCCB public-option acceptance. Ask USCCB about that!

Posted by: Hal - Oct. 13, 2009 6:52 PM ET USA

They were so eager to get in bed with Obama and his administration, as far as I'm concerned they can reap the whirlwind. That's not a temperate position, but I am thoroughly disgusted with the USCCB and have been for sometime. Perhaps being called "liars" to their faces by the Administration they love so much will awaken them, but I doubt it.

Posted by: - Oct. 13, 2009 6:51 PM ET USA

The Democrats have lied about this bill from the get-go. Why anyone would believe them now is beyond me; but I guess there will always be those who drink the koolaid. Anyone who listened to Obama's pre-election pledges should know better. What term will they use for the bishops? "Brown shirts" has already been used...

Posted by: - Oct. 13, 2009 10:26 AM ET USA

Its all about trust. Would you trust the Obama regime, Congress and government bureaucrats with health care decisions?

Posted by: sparch - Oct. 13, 2009 9:59 AM ET USA

This may be true at the moment. However, the healthcare bill, if passed, will be the vehicle that will allow federally funded abortions to be offered in the future. Make no mistake. In the name of "social justice" we will make ourselves feel good that we are providing for the poor and needy. In reality, we will in time be providing programs that will be in direct opposition to the teaching of the church. Take the initiative and help the poor yourself. Do not let the government do it for you.