Catholic World News
US bishops may revise end-of-life directive on nutrition, hydration
October 02, 2009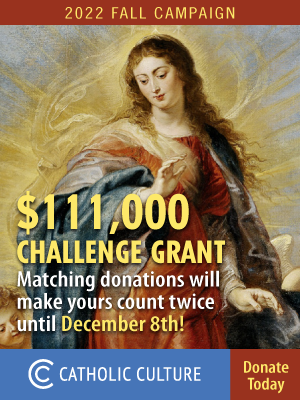 The United States Conference of Catholic Bishops has released the agenda of the US bishops' annual fall meeting. The bishops, who will gather at the Baltimore Marriott Waterfront Hotel from November 16 to 19, will vote on translations of the Roman Missal and elect committee chairmen, with the vote on the chairmanship of the Committee on Divine Worship being a bellwether of the current sense of the bishops on liturgical questions. The bishops will also discuss pastoral letters on marriage and reproductive technologies.
In addition, the bishops will consider revising a paragraph on end-of-life care in their Ethical and Religious Directives for Catholic Health Care Services. The 2001 directive currently reads, "There should be a presumption in favor of providing nutrition and hydration to all patients, including patients who require medically assisted nutrition and hydration, as long as this is of sufficient benefit to outweigh the burdens involved to the patient." The potentially ambiguous language of "benefits" outweighing "burdens" will likely be revised in light of the Congregation for the Doctrine of the Faith's 2007 "Responses to Certain Questions of the United States Conference of Catholic Bishops Concerning Artificial Nutrition and Hydration."
---
For all current news, visit our News home page.
---
Further information:
Sound Off!
CatholicCulture.org supporters weigh in.
All comments are moderated. To lighten our editing burden, only current donors are allowed to Sound Off. If you are a current donor, log in to see the comment form; otherwise please support our work, and Sound Off!