Catholic World News
Jesuit general calls for new ecclesiology to promote women's inclusion
March 10, 2017
Father Arturo Sosa Abascal, the superior general of the Society of Jesus, said on March 8 that "the fullness of women's participation in the Church has not yet arrived."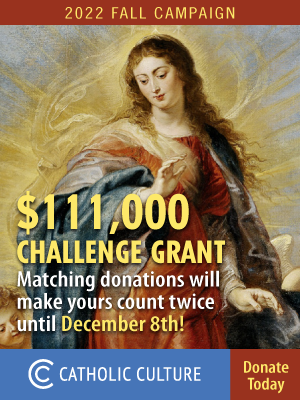 According to the National Catholic Reporter, Father Sosa called for a new ecclesiology that would "push the Church to become the People of God as we proclaimed [in] the Second Vatican Council."
---
For all current news, visit our News home page.
---
Further information:
Sound Off!
CatholicCulture.org supporters weigh in.
All comments are moderated. To lighten our editing burden, only current donors are allowed to Sound Off. If you are a current donor, log in to see the comment form; otherwise please support our work, and Sound Off!
Posted by: ILM - Mar. 13, 2017 1:57 PM ET USA

Father Arturo and others of his ilk are helping orthodox Catholics to do some of their purgatory while still here on earth.

Posted by: DanS - Mar. 13, 2017 9:39 AM ET USA

More silliness and hi-jinx from the Jesuits! How worldly! How politically correct! How progressive! Just like Jesus...oh wait.

Posted by: Bveritas2322 - Mar. 11, 2017 3:38 PM ET USA

At what point will it become necessary and no longer calumny to publicly and forcefully refer to a high placed ecclesial figure as a jackass?

Posted by: feedback - Mar. 11, 2017 12:53 PM ET USA

"Become the People of God as proclaimed in the Second Vatican Council." I'm just reading "Gaudium et Spes" and would recommend it to every Catholic. In my experience, many who attempt to use Vatican II to boost the validity of their own peculiar agendas, have not even read the actual documents and wouldn't be willing, or able, to quote any specific texts of the Council.

Posted by: claude-ccc2991 - Mar. 11, 2017 3:34 AM ET USA

Of course, we must hang on every word this man says, since only he is wise enough to have seen that Jesus must be reinterpreted. The problem with language is that the same words can mean different things to different people, or two people can use the same phrase for different ends. "The People of God" is that very kind of phrase. It means "the people who follow God". But to Sosa, it's code for accomodating teaching to the times, with Sosa being the Great Accomodator.

Posted by: skall391825 - Mar. 11, 2017 1:09 AM ET USA

Fr. Sosa should initiate a new Order of Jesuit priestesses who can join the Jesuits' New Church after the coming schism.

Posted by: james-w-anderson8230 - Mar. 10, 2017 9:33 PM ET USA

Fr. Arturo Sosa Abascal seams to have been sleeping during church history class. The fullness of women's participation in the Church peaked during all their reform movements and the building of schools and hospitals. He should address their abandonment of their founders charisms.

Posted by: Archpriest - Mar. 10, 2017 7:17 PM ET USA

More Vatican news that cause serious upset among Eastern Catholics. Supposedly the various Eastern Catholic Churches are equals to the Roman Church yet in this, like so many other things, the Orthodox Eastern Catholic theological understanding of complimentarity is totally ignored. Not one Eastern Catholic patriarch serves on the pope's senior advisory body. Although heads of constutuent Churches, the patriarchs are seen as subordinate to cardinals! Where is the promise of Vatican II in that?

Posted by: Jim Hanink - Mar. 10, 2017 6:36 PM ET USA

Perhaps at this point our powers of discernment might be better directed to the question of why so many men dismiss "church life" as something chiefly for women.

Posted by: Lucius49 - Mar. 10, 2017 10:23 AM ET USA

Global Jesuit leader? I guess that is the pc (cultural Marxist term?) term for the General of the Jesuits. Pray tell what would that "new ecclesiology" be? I fear it would be an ecclesiology subservient to the politically correct ideology which in its roots is Marxist. Fr. Sosa is the author of an article Mediacion Marxista de la Fe cristiana which claimed Christianity must be seen through a Marxist lens. I call all of this the anti-church which in its roots is the gnostic "church."

Posted by: ElizabethD - Mar. 10, 2017 9:13 AM ET USA

New ecclesiology? such as referring to the Church as the Bride of Christ, as feminine? such as "in Christ there is no male or female" ie all are equally members of the Body of Christ? I agree the fullness of my participation in the Church has not yet arrived, but that is because the fullness of participation in the Church is by union with God in love. Charity is not yet perfect in me, but when it is, my perfect participation in the Church will have arrived.