Catholic World News
Vatican stamp to honor Luther
January 18, 2017
The Vatican will issue a stamp to honor Martin Luther this year, marking the 500th anniversary of the Protestant Reformation.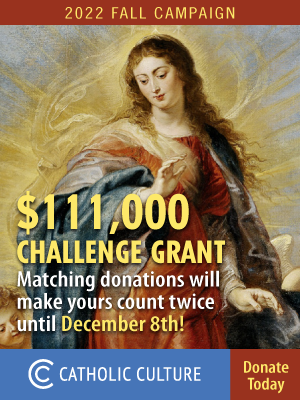 The Vatican regularly issues stamps to mark special occasions and to honor individuals. In the past, stamps have been issued to honor non-Catholics, but never to honor a non-Catholic for religious leadership.
---
For all current news, visit our News home page.
---
Further information:
Sound Off!
CatholicCulture.org supporters weigh in.
All comments are moderated. To lighten our editing burden, only current donors are allowed to Sound Off. If you are a current donor, log in to see the comment form; otherwise please support our work, and Sound Off!
Posted by: feedback - Jan. 19, 2017 12:06 PM ET USA

Isn't this a sin of proselytism? Lutheran proselytism.

Posted by: bernie4871 - Jan. 19, 2017 11:24 AM ET USA

Why not Henry VIII or Calvin or .... how about Mohammed? Why not?

Posted by: garedawg - Jan. 19, 2017 10:40 AM ET USA

Philatelists take note, especially for your grandchildren. Such a strange and unusual stamp will probably be very valuable many years from now.

Posted by: Elan - Jan. 18, 2017 10:37 PM ET USA

Is no one outraged? Shall we issue stamps to commemorate Henry VIII taking over the Church in England so that he could get divorced? Let's begin with the truth. Luther was wrong about most things and he divided Christ's Church. He reformed nothing! "Everyone who is of the truth hears my voice." Jn 18:37

Posted by: stpetric - Jan. 18, 2017 9:39 PM ET USA

It doesn't seem entirely accurate to call Luther a "non-Catholic". He was an ex-Catholic who abandoned the faith, indeed he was arguably a heretic. I'm not sure I grasp the prudence of Vatican City honoring him.

Posted by: jalsardl5053 - Jan. 18, 2017 8:13 PM ET USA

Wow! I clearly need to attend Lutheran services to get what I'm missing about "religious leadership". Last I knew religious leadership came from people like, oh say St. Thomas More, St. Mother Teresa, etc. and on and so forth. Maybe Pope Francis is angling to lead the Lutherans.

Posted by: margieP - Jan. 18, 2017 7:57 PM ET USA

Yup--invite known pro-abortion and practicing LBGQ people for private audiences and now issue a stamp celebrating a heretic. Is this Catholicism in action or what!? (Ans: what)