Catholic World News
Nuncios gather in Rome, discuss gender, Islam
September 16, 2016
106 of the 108 nuncios and other papal diplomatic representatives gathered in Rome on September 15 for three days of meetings as part of the extraordinary jubilee of mercy.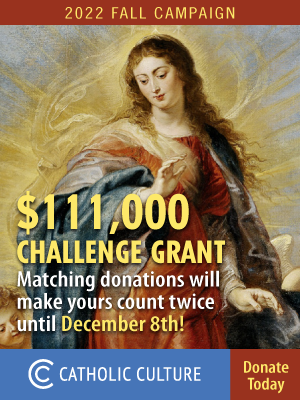 On September 15, Msgr. Piero Coda, the head of the Focolare movement's Sophia University Institute, led a discussion entitled "The World Today – The Church Today – Pope Francis." Father Robert Gahl, a priest of Opus Dei and ethics professor at the Pontifical University of the Holy Cross, then discussed "Genesis and the case of gender culture: approaches."
On September 16, Cardinal Jean-Louis Tauran, president of the Pontifical Council for Interreligious Dialogue, is slated to discuss interreligious dialogue and relations with Islam.
The following day, Pope Francis will preside at a Mass with the nuncios, and Msgr. Pierangelo Sequeri, the new dean of the Pontifical John Paul II Institute for Studies on Marriage and Family, will offer a spiritual reflection.
---
For all current news, visit our News home page.
---
Further information:
Sound Off!
CatholicCulture.org supporters weigh in.
All comments are moderated. To lighten our editing burden, only current donors are allowed to Sound Off. If you are a current donor, log in to see the comment form; otherwise please support our work, and Sound Off!