Catholic World News
Cardinal Dolan defends decision to remain as Grand Marshall of St. Patrick's day parade
September 18, 2014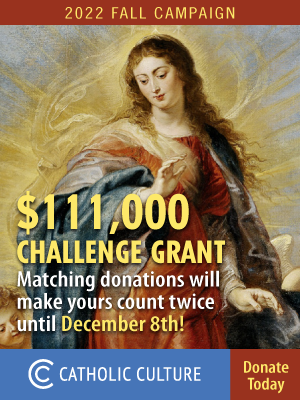 New York's Cardinal Timothy Dolan has defended his decision to accept the presence of a homosexual group in the St. Patrick's day parade, in a column for his archdiocesan newspaper.
Emphasizing that he did not personally approve the policy change, the cardinal said that parade organizers acted independently in admitting the gay contingent. "While the Parade committee was considerate in advising me of the change, they did not ask my approval, nor did they need to," he said.
Once the change was made, Cardinal Dolan said, he asked himself, "does the new policy violate Catholic faith and morals?" He concluded that it did not. The cardinal explained:
I have been assured that the new group marching is not promoting an agenda contrary to Church teaching, but simply identifying themselves as "Gay people of Irish ancestry."
Although homosexual actions are sinful, the cardinal said, a homosexual inclination is not. Therefore, insofar as the group involved in the parade was advertising its inclinations rather than actions, he saw no reason to step down from his honorary post as Grand Marshall of the parade.
---
For all current news, visit our News home page.
---
Further information:
Sound Off!
CatholicCulture.org supporters weigh in.
All comments are moderated. To lighten our editing burden, only current donors are allowed to Sound Off. If you are a current donor, log in to see the comment form; otherwise please support our work, and Sound Off!
Posted by: jg23753479 - Sep. 19, 2014 7:07 PM ET USA

I think there may be a place for Dolan in the current White House. He has mastered the double-speak necessary to defend this administration in all its twists and turns.

Posted by: garedawg - Sep. 19, 2014 10:49 AM ET USA

I have plenty of sinful inclinations. I don't think I would want to march in a parade in order to advertise my inclinations, unless it was something I had to do for a penance. "Next up, a group of middle-aged men who are impatient with their wives..."

Posted by: MAG - Sep. 18, 2014 9:59 PM ET USA

The Cardinal is delusional; his species - numerous in our day - readily ignores facts disagreeable to their moral failings. Pray Timothy Cardinal Dolan does not join Boniface VIII in the rings...

Posted by: williiam ronner - Sep. 18, 2014 9:32 PM ET USA

We must ask a simple question. Since the Cardinal really did nothing to stop same sex marriage, and since he tacitly approves of the inclusion of a homosexual group marching under the same sex banner, what is he afraid of?

Posted by: Defender - Sep. 18, 2014 9:23 PM ET USA

"I have been assured that the new group marching is not promoting an agenda contrary to Church teaching..." Cardinal, I have a bridge in Brooklyn I'd like to sell you cheap!

Posted by: james-w-anderson8230 - Sep. 18, 2014 9:16 PM ET USA

Irish members of Courage would not do this, they would march as loyal sons of Ireland. You don't see Irish members of AA asking to march under an AA banner. Next year they won't be able to stop any gay groups from marching. If Cardinal Dolan had exemplified leadership & told the committee that he was going to disassociate himself & the church from the parade they would not have caved in to the radical homosexuals. It is a sad day for the Church.

Posted by: florentine - Sep. 18, 2014 7:35 PM ET USA

oh yes, a group professing active homosexuality, whose one distinction is that they prefer & promote sodomy as a sexual norm, does not bother Dolan ... well, not too long ago on Sunday morning TV, Dolan applauded a football player who had just "come out" with the words, "good for him" .... talk about creating chaos & confusion amg. the faithful, or has the leadership of the Catholic Church just given up altogether?!