Catholic World News
Vatican cardinal challenges economists to develop 'economy of inclusion'
February 13, 2014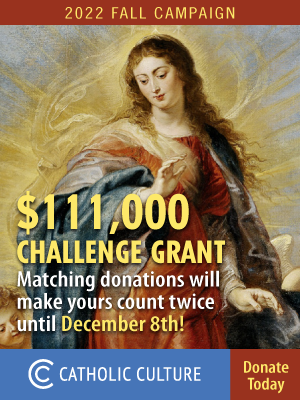 Speaking at the London School of Economics, the president of the Pontifical Council for Justice and Peace challenged his audience to "design an economy of inclusion."
"It will require the full breadth of your many disciplines," said Cardinal Peter Turkson. "It requires great reach and generous welcome to have quite different voices heard: banking, finance, business, politics, as well as workers, the unemployed and migrants, youth and the old."
Cardinal Turkson summarized and defended his controversial 2011 document, "Towards Reforming the International Financial and Monetary Systems in the Context of Global Public Authority." At the same time, he somewhat downplayed the document's significance, referring to it as a "discussion document."
"I call it a 'Note' to indicate the nature of the text," he said. "It is a discussion document meant to stimulate international reflection and discussion about the financial markets still in the grip of the crisis which burst open in 2007."
---
For all current news, visit our News home page.
---
Further information:
Sound Off!
CatholicCulture.org supporters weigh in.
All comments are moderated. To lighten our editing burden, only current donors are allowed to Sound Off. If you are a current donor, log in to see the comment form; otherwise please support our work, and Sound Off!
Posted by: bkmajer3729 - Feb. 13, 2014 8:29 PM ET USA

Reform the financial community. Good luck. Suffering from the delusion the value of unit money decreases with time. Well yes, based on the system man has created...time value of money. The cost of everything could be reset and the system set up to benefit everyone. Good luck.

Posted by: unum - Feb. 13, 2014 6:01 PM ET USA

Economics is a science to the extent that it studies and categorizes human economic behavior. Christianity and the social gospel are philosophies. The Cardinal is falling into the same trap as scientists who try to debunk religion. Christians need to find common ground with economists to help the disabled and disenfranchised who can't fully participate in the economy and share in the benefits of economic growth. But, we can't insist that economics be changed to suit Christians.

Posted by: Bveritas2322 - Feb. 13, 2014 2:15 PM ET USA

One solution is to have economically illiterate Cardinals stop advocating the sort of centralized political power that exponentially increases poverty. Then they might have time to discover the Catholic religion sufficiently to learn that the one and only evil in the world is personal sin.