Catholic World News
Support marriage, oppose relativism, Pope asks Polish bishops
February 07, 2014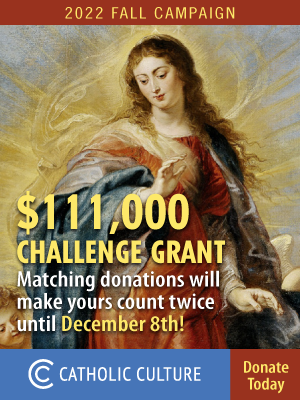 At a February 5 audience with a group of bishops from Poland, who were concluding their ad limina visits, Pope Francis called for energetic evangelization, which would include opposition to relativism, support for the family, encouragement of priestly and religious vocations, and service to the poor.
The Pope opened his address by mentioning preparations for the canonization of Blessed John Paul II. The Polish Pontiff "guides us from heaven," he said, and should remind the Polish bishops especially of the need for Church unity. Pope Francis encouraged the bishops "to ensure that nothing and no one may bring divisions between them."
The Pope said reports from the Polish bishops had included many positive reflections on the life of the Church in that country. But there was also "a certain decline in various aspects of Christian life," he said. One major cause of that decline, the Pope continued, is "the idea of freedom without limits, hostile tolerance or indeed distrust of the truth, or resistance to the Church's legitimate opposition to dominant relativism." He encouraged the bishops to combat that tendency vigorously.
Turning next to marriage and family life, the Pontiff observed with regret that "nowadays marriage tends to be viewed as a form of mere emotional satisfaction that can be constructed in any way or modified at will." That attitude has infected Christians, he said, and resulted in a decline of marital unity. He urged the bishops to oppose this tendency, too, particularly by better preparation of young people entering marriage. At the same time he asked them to make extra efforts to provide pastoral care for those who are separated or divorced, "so that they are not excluded from God's mercy."
World Youth Day, which will be held in Krakow in 2016, could provide an excellent opportunity for catechesis, particularly with young people, the Pope remarked.
Next the Pontiff spoke about the priesthood, saying that it is essential for priests to have a missionary spirit. That spirit, he said, "demands a spirit of poverty, of abandonment." The same spirit is needed for religious life, he continued, saying that it is "worrying to see a decline in the numbers of those joining religious congregations."
Finally the Pope asked the Polish bishops to be mindful of the poor. "Be close to them," he urged. "Accompany them with the suitable pastoral care, so that they may conserve the faith and religious traditions of the Polish people."
---
For all current news, visit our News home page.
---
Further information:
Sound Off!
CatholicCulture.org supporters weigh in.
All comments are moderated. To lighten our editing burden, only current donors are allowed to Sound Off. If you are a current donor, log in to see the comment form; otherwise please support our work, and Sound Off!