Catholic World News
Pope Francis makes dramatic statement: all share responsibility for deaths of migrants
July 08, 2013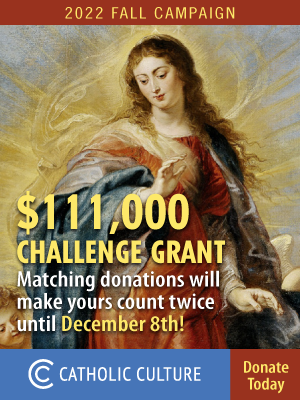 Pope Francis traveled to the island of Lampedusa on July 6, to pray for the thousands of refugees and migrants who have died trying to reach Europe, and to "challenge our consciences lest this tragedy be repeated."
The Pope had announced his plan to visit Lampedusa—an Italian island south of Sicily, and the frequent goal for migrants—after hearing about a boat that sank offshore, taking a group of migrants to their deaths. Such tragedies have become frequent in the Mediterranean waters of the region, and the Pope said that the latest incident became "a painful thorn in my heart."
With his first trip outside the region of Rome since his election as Pontiff—and the first-ever visit by a Pope to Lampedusa— Pope Francis sought to call attention to the plight of migrants and to insist that the affluent West must take responsibility for their suffering.
After a flight from Rome, the Pope boarded a boat to arrive at the port of Lampedusa, pausing along the route to cast a floral wreath on the waters that have claimed the lives of thousands of migrants. Later, celebrating Mass at a soccer field, he remarked on the sad irony of "immigrants dying at sea, in boats which were vehicles of hope and became vehicles of death."
In his homily the Pope spoke about the failure of Christians to recognize refugees and migrants as their brothers. "How many of us—myself included—have lost our bearings," he said. "We are no longer attentive to the world in which we live." He remarked that far too often, those in need are seen "no longer as a brother or sister to be loved, but simply another person who disturbs our lives and our comfort." He decried the "culture of comfort" that "makes us insensitive to the cries of other people, makes us live in soap bubbles which, however lovely, are insubstantial."
The deaths of migrants seeking a better life should be a challenge to every Christian, the Pope said. He continued:
Today no one in our world feels responsible; we have lost a sense of responsibility for our brothers and sisters; we have fallen into the hypocrisy of the priest and the Levite whom Jesus described in the parable of the Good Samaritan: we see our brother half dead on the side of the road, perhaps we say to ourselves: 'poor soul!', and then go on our way; it's not our responsibility, and with that we feel reassured.
At Lampedusa the Pope celebrated a special Mass for the forgiveness of sins. "In this liturgy, a penitential liturgy, we beg forgiveness for our indifference to so many of our brothers and sisters," he said.
---
For all current news, visit our News home page.
---
Further information:
Sound Off!
CatholicCulture.org supporters weigh in.
All comments are moderated. To lighten our editing burden, only current donors are allowed to Sound Off. If you are a current donor, log in to see the comment form; otherwise please support our work, and Sound Off!
Posted by: bruno - Jul. 08, 2013 9:32 PM ET USA

It seems to me that every time I read something new that our holy father is saying there is a new call to conversion. He seems to have the unique ability to convict our conscience in charity and without condescension. Jesus have mercy on me a sinner!

Posted by: - Jul. 08, 2013 8:47 PM ET USA

Pope Francis is correct; however, I never hear any criticism levied at the countries from which these poor people are from. The bishops in those countries are usually silenced by some dictator or machete-wielding thug. If we only serve the needs of immigrants, what about those who are left behind? Why does the Pope not mention their suffering as well? I hear not a word about their concerns but only of those who flee.

Posted by: dover beachcomber - Jul. 08, 2013 6:03 PM ET USA

"No one in our world feels responsible." Really, Holy Father? There are dozens of organizations already working toward the welfare of migrants. Let's fix the underlying problem: the deplorable conditions -- often caused by socialist policies, which the Church nevertheless seldom criticizes -- in their native lands that drive some to risk everything to escape.