Catholic World News
Abuse scandal's total cost: $2.62 billion since 2004
May 10, 2013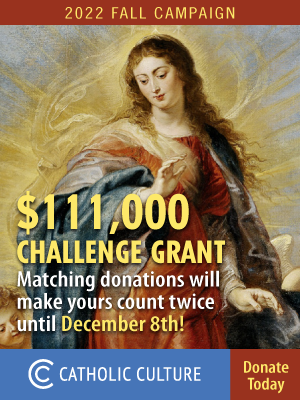 The clerical abuse scandal cost American dioceses $112,966,427 in 2012, according to a report released on May 9 by the United States Conference of Catholic Bishops (USCCB).
Only 56% of those funds were allotted to settlements ($50.4 million) and therapy for abuse victims ($7.2 million). The remaining funds were spent on attorneys' fees ($35.3 million), support for offenders ($11.8 million), and other costs ($2.6 million), according to the 2012 "Report on the Implementation of the Charter for Protection of Children and Young People."
The clerical abuse scandal cost religious institutes an additional $20,139,384 in 2012. These expenses brought the total cost of the clerical abuse scandal to American dioceses and religious institutes between 2004 and 2012 to $2,621,516,566: $2,242,949,048 for dioceses and eparchies, and $378,567,518 for religious institutes.
During the 2012 audit period, 34 minors alleged they were abused by a priest or deacon. The report found that six allegations "were considered credible by law enforcement," while 12 "were determined to be unfounded or unable to be proven." One was determined to be a "boundary violation," and 15 were still under investigation.
During the 2012 audit period, 887 adults also alleged that they had been abused by a priest or deacon in the past. "Allegations were made against 805 priests and 11 deacons," the report stated. "242 are deceased and 287 had been named in previous audits, 64 had already been laicized, 172 have been removed from ministry this year, and 132 allegations were unfounded or unable to be proven."
84% of those of alleged abuse were male. 66% of allegations "occurred or began between 1960 and 1984."
Among the other findings of the report:
"dioceses/eparchies provided outreach to 428 people who came forward during the 2012 audit year seeking assistance with healing and/or reconciliation. An additional 1,742 people who had come forth in years past continued to be served by outreach by dioceses/eparchies."
"half of the victims (48%) were between the ages of ten and 14 when the alleged abuse began. About the same proportion of the victims were between the ages of 15 and 17 (17%) or under age ten (19%). The age could not be determined for a sixth of victims (15%).
"the most common time period for allegations reported in 2012 was 1975-1979 (62 allegations) or 1980-1984 (67 allegations)."
only 1% of the alleged abusers were permanent deacons; four of the 34 new abuse allegations involved international priests
the percentage of unsubstantiated or false allegations against diocesan priests and deacons has varied between 11% and 17% in each of the last seven years
The authors of the report criticized the Diocese of Lincoln and five Eastern Catholic eparchies for not taking part in an audit that measures compliance with the USCCB's 2002 Dallas charter. The eparchies are the Chaldean Eparchy of St. Peter the Apostle of San Diego, the Eparchy of Newton for Melkites, the Eparchy of Our Lady of Nareg in New York for Armenian Catholics, the Ukrainian Catholic Eparchy of Stamford, and the Eparchy of Our Lady of Deliverance of Newark for Syriacs.
StoneBridge Business Partners, which conducted the audit, noted that "the most common scope limitation encountered in the Charter audit process was the unwillingness of most dioceses and eparchies to allow us to conduct parish audits during their onsite audits. Although an understanding of Charter implementation may be gained through interview of personnel and review of documentation at the diocesan/eparchial level, greater proof of compliance—or lack thereof—can be found at the parishes and schools."
"Without the opportunity to observe compliance activities at parishes and schools, the auditors must rely solely on the information provided by the diocese or eparchy, instead of observing the program firsthand," the auditor added.
The auditing firm also stated that
another limitation is frequent turnover in diocesan/eparchial personnel. When a key player in a Charter implementation program steps down, or his or her position is otherwise vacated, most dioceses and eparchies attempt to fill the position, at least temporarily, with existing personnel. During this time, important compliance components may be overlooked or neglected. Records are often lost, and successors to the position are often placed in key roles without formal orientation.
---
For all current news, visit our News home page.
---
Further information:
Sound Off!
CatholicCulture.org supporters weigh in.
All comments are moderated. To lighten our editing burden, only current donors are allowed to Sound Off. If you are a current donor, log in to see the comment form; otherwise please support our work, and Sound Off!
Posted by: Defender - May. 13, 2013 1:52 AM ET USA

Lawyers...

Posted by: - May. 10, 2013 9:31 PM ET USA

Is there a chart showing where the various dioceses were affected?