Catholic World News
Father Fessio, George Weigel laud Pope as 'old-school Jesuit'; 'persecuted' by fellow Jesuits in Argentina?
March 15, 2013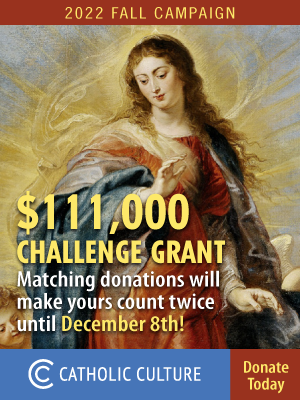 Father Joseph Fessio, the Jesuit founder of Ignatius Press, said that he was "overjoyed" by the election of Pope Francis.
"He is a great Jesuit, a traditional one," Father Fessio said of the Pontiff. "He's 'progressive' in the sense that he loves the poor, and--more importantly--lives a life of simplicity. But he is completely faithful to the Church's teaching. So he really is a 'pontifex maximus,' which is Latin for 'the greatest bridge builder.' He bridges the Old World and the New, doctrinal orthodoxy and service to the poor."
Likewise, George Weigel wrote that Pope Francis "is an old-school Jesuit, formed by classic Ignatian spirituality and deeply committed to an intelligent, sophisticated appropriation and proclamation of the full symphony of Catholic truth — qualities not notable for their prevalence among members of the Society of Jesus in the early 21st century."
Weigel added:
I suspect there were not all that many champagne corks flying last night in those Jesuit residences throughout the world where the Catholic Revolution That Never Was is still regarded as the ecclesiastical holy grail. For the shrewder of the new pope's Jesuit brothers know full well that that dream was just dealt another severe blow. And they perhaps fear that this pope, knowing the Society of Jesus and its contemporary confusions and corruptions as he does, just might take in hand the reform of the Jesuits that was one of the signal failures of the pontificate of John Paul II.
Recalling an hour-long conversation with the future Pope, Weigel hailed him as a "man of God" and a "Pope for the new evangelization" and said that he "had been persecuted by his more theologically and politically left-leaning Jesuit brethren after his term as Jesuit provincial in Argentina (they exiled him to northern Argentina, where he taught high-school chemistry until rescued by John Paul II and eventually made archbishop of Buenos Aires)."
---
For all current news, visit our News home page.
---
Further information:
Sound Off!
CatholicCulture.org supporters weigh in.
All comments are moderated. To lighten our editing burden, only current donors are allowed to Sound Off. If you are a current donor, log in to see the comment form; otherwise please support our work, and Sound Off!
Posted by: AgnesDay - Mar. 15, 2013 12:49 PM ET USA

Lucius, I think he might want to re-punctuate that.

Posted by: Lucius49 - Mar. 15, 2013 9:10 AM ET USA

Doctrinal orthodoxy is Old World and sensitivity to the poor New World?? I think Fr Fessio might want to rethink that.