Catholic World News
During Lent, learn to make God central to life, Pope urges faithful
February 13, 2013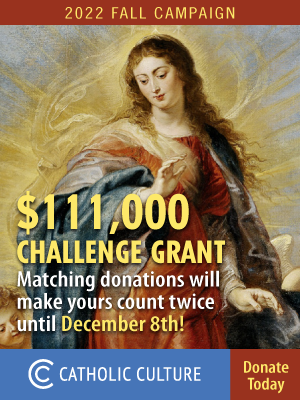 During Lent, Pope Benedict XVI told his weekly audience on February 13, Christians should work to overcome "the temptation to place God in submission to oneself and one's own interests, or to put Him in a corner."
Before beginning his regular catechetical talk, Pope Benedict offered a few comments on his impending resignation, thanking the faithful for the support of their prayers. (For further information see today's separate CWN headline story.)
As Lent begins, the Pope urged Christians to reflect on the 40 days that Jesus spent in the desert. The desert, the Pope observed, is "the place of silence, of poverty, where man is deprived of material support and is placed in front of the fundamental questions of life." At the same time, he added, it is "a place of solitude where man feels temptation more intensely."
In the desert, Jesus was tempted by the devil to "leave the path indicated by God the Father to follow other easier and worldly paths," the Pope continued. That temptation is a common one, he said, and during Lent "we are invited, each one of us, to respond to one fundamental question: what is truly important in our lives?"
The Pope spoke about the temptation to give God only a portion of one's life, to carve out a space for faith rather than putting God at the center of all activities. Pope Benedict mentioned a few model Christians—including the American Catholic activist Dorothy Day—who had experienced conversions and resolved to turn their lives over utterly to God rather than concentrating first on economic or political affairs.
---
For all current news, visit our News home page.
---
Further information:
Sound Off!
CatholicCulture.org supporters weigh in.
All comments are moderated. To lighten our editing burden, only current donors are allowed to Sound Off. If you are a current donor, log in to see the comment form; otherwise please support our work, and Sound Off!