Catholic World News
Cardinal Bertone breaks his silence on 'Vatileaks' scandal
June 05, 2012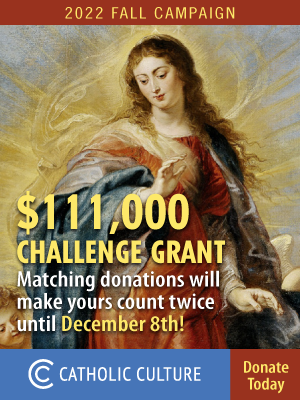 In his first public statement on the leaks of confidential Vatican documents, Cardinal Tarcisio Bertone told an Italian television interviewer that Pope Benedict XVI is not overly worried by the scandal.
"He doesn't allow himself to be frightened by attacks, of any sort, nor by the hard accumulation of prejudices," the Vatican Secretary of State told RAI television.
However, Cardinal Bertone said that the leaks were an attack on the Pope. Recalling an earlier day when Pope Paul VI was under attack from within the Vatican, the cardinal said that in this case "the attacks are more carefully aimed, and sometimes also ferocious, destructive, and organized."
Cardinal Bertone's response is particularly significant because he--not the Pope--seems to be the main target of the campaign of leaks. The confidential documents that have been released to the press often put the Secretary of State in an unfavorable light. To date, none of the leaked documents has been embarrassing to the Pontiff.
Cardinal Bertone's use of the word "organized" to describe the leaks signaled that he shares the general belief in Rome that the leaks have been orchestrated by a group of people, rather than the work of a single disgruntled individual. The most recent batch of leaked documents, delivered anonymously to the Italian daily La Repubblica, came accompanied by a note saying that "hundreds more" documents could be made public soon.
"What's most sad in these events and these situations is the violation of the privacy of the Holy Father and his closest collaborators," Cardinal Bertone told RAI. The cardinal said, nevertheless, that morale remains high on the papal staff, and "that these have not been, and aren't now, days of division but of unity."
---
For all current news, visit our News home page.
---
Further information:
Sound Off!
CatholicCulture.org supporters weigh in.
All comments are moderated. To lighten our editing burden, only current donors are allowed to Sound Off. If you are a current donor, log in to see the comment form; otherwise please support our work, and Sound Off!