Catholic World News
43 Catholic groups file legal challenge to HHS mandate
May 21, 2012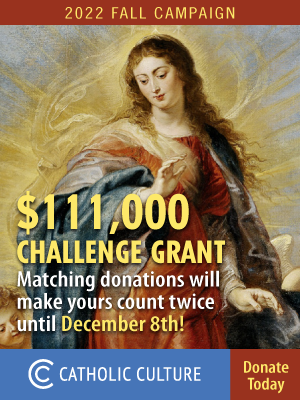 Warning that "fundamental rights hang in the balance," 43 Catholic dioceses and apostolates have filed lawsuits arguing that the mandated coverage of contraception in health-care plans is unconstitutional.
The University of Notre Dame, Catholic University of America, and the publisher Our Sunday Visitor have joined the Archdiocese of New York, the Archdiocese of Washington, and dozens of other Catholic institutions in the legal challenge.
In 12 separate suits, filed in federal courts across the US, the plaintiffs argue that the contraceptive mandate is a violation of their religious freedom. Father John Jenkins, the president of Notre Dame, explained:
We do not seek to impose our religious beliefs on others. We simply ask that the government not impose its values on the university when those values conflict with our religious teachings.
Greg Erlandson, the president of Our Sunday Visitor, observed that the health-care mandate gives the Department of Health and Human Services authority to determine whether institutions qualify for a religious exemption from the proposed mandate. "Our lawsuit raises two questions," he said: "Whether the government can use such criteria to define the religiousness of an organization, and whether the government may force religious institutions and individuals to provide and facilitate services which violate their religious beliefs."
Cardinal Timothy Dolan of New York said that the large number of plaintiffs--including parochial schools, universities, charitable groups, and service organization as well as dioceses and archdioceses--is "a compelling display of the unity of the Church in defense of religious liberty." He added that the list of organizations could also furnish a reminder of the number of Catholic organizations devoted involved in public services--all of which could be endangered by the mandate.
Cardinal Dolan said that the lawsuit was necessary because President Obama has not responded to pleas for an amendment to the contraceptive mandate, and bids for relief in Congress face uncertain prospects. "We have tried negotiations with the administration and legislation with the Congress--and we'll keep at it--but there's still no fix," he said.
---
For all current news, visit our News home page.
---
Further information:
Sound Off!
CatholicCulture.org supporters weigh in.
All comments are moderated. To lighten our editing burden, only current donors are allowed to Sound Off. If you are a current donor, log in to see the comment form; otherwise please support our work, and Sound Off!