Catholic World News
One-fifth of US Catholics not linked to any parish
May 04, 2012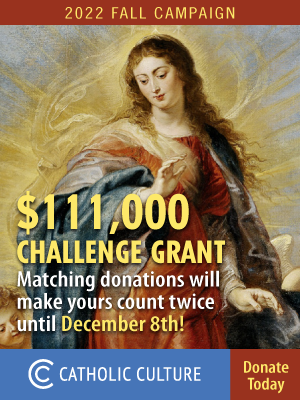 Roughly one-fifth of the Catholics in the US are not associated with a parish, a new study has found.
While there are about 75 million Catholics in the US, "fewer than 60 million are associated with a specific Catholic church," reports Clifford Grammich of the Glenmary Research Center. Thus at least 15 million people who identify themselves as Catholic but not with any parish.
The Glenmary study found that drop of 3.1 million in the Catholic population since the 2000 census. There are now 58.9 million Catholics registered in 20,589 parish congregations. The number of congregations, like the number of registered Catholics, has dropped by about 5% since 2000.
---
For all current news, visit our News home page.
---
Further information:
Sound Off!
CatholicCulture.org supporters weigh in.
All comments are moderated. To lighten our editing burden, only current donors are allowed to Sound Off. If you are a current donor, log in to see the comment form; otherwise please support our work, and Sound Off!
Posted by: WBSM - May. 05, 2012 9:54 AM ET USA

The "lost sheep" are not just a figure as part of an institutions PR. They are in danger of being found by wolves or perish otherwise, unless they encounter the Good Shepherd. We have to look for them even if they do not want to be found (see St Augustine: Sermon 46 On Pastors).

Posted by: unum - May. 05, 2012 9:11 AM ET USA

I know the Church just wants to report total "Catholics" for PR purposes. But, in the interest of integrity, could they publish meaningful definitions of "Active Catholics" and "inactive Catholics" and provide some subtotals? I resent being lumped in a category with people who don't belong to a parish, don't attend Mass, don't receive the Sacraments, don't know the faith or live it, but are considered "Catholic" for some reason.