Catholic World News
Illicit Chinese bishop ordains priests; Maryknoll priest concelebrates
March 29, 2012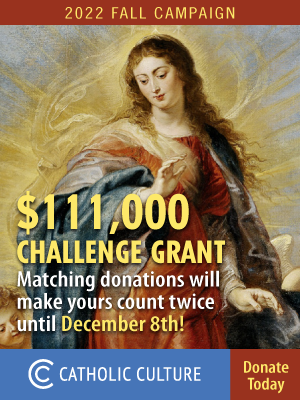 A Chinese bishop whose ministry is not recognized by the Holy See has ordained four men to the priesthood. Three foreign priests--a Maryknoll priest from the US and two Korean Benedictine priests--concelebrated the ordination Mass with Bishop Joseph Ma Yinglin of Kunming.
"It is very dangerous for the country and society to have a 'son of corruption' like Ma, as the mindset of conniving corruption is contagious, which would encourage more opportunists who disregard Church principles," said Anthony Lam Sui-ki, senior researcher of the Diocese of Hong Kong's Holy Spirit Study Centre.
---
For all current news, visit our News home page.
---
Further information:
Sound Off!
CatholicCulture.org supporters weigh in.
All comments are moderated. To lighten our editing burden, only current donors are allowed to Sound Off. If you are a current donor, log in to see the comment form; otherwise please support our work, and Sound Off!
Posted by: ElizabethD - Mar. 29, 2012 9:53 PM ET USA

Don Vincente, I think that Holy Spirit Study Center, which is the seminary in Hong Kong, more than likely knows what they were talking about.

Posted by: wsw33410 - Mar. 29, 2012 9:46 PM ET USA

At Don Vicente -- apparently, you have never lived in a communist country and don't know that a part of personal integrity and moral standing is an option to reject such government's "kind permission" to travel (to receive a passport, not a visa only) - many people stayed behind and never went to study to the US or Europe - many became martyrs - those who accepted govt "permission" turned as collaborators, traitors and denouncers of own brothers and friends

Posted by: Don Vicente - Mar. 29, 2012 3:47 PM ET USA

There is not as bright a line between the official and unofficial churches as "Defender" imagines. Yes, the non-Chinese priests should not have concelebrated, and yes, Joseph Ma Yinglin should regularize his relationship to the Holy See. But if a man comes to the US or Europe from China to study, he needs a visa issued by the Chinese govt. No one in open defiance of the govt. will get a visa. This leads to interesting arrangements - not all of which are forbidden by the Holy See. Much unseen..

Posted by: Defender - Mar. 29, 2012 12:47 PM ET USA

This shouldn't be too much of a surprise. The Maryknollers have brought "patriotic priests" to the U.S. for training for years. Between them and the Jesuits, they have ignored instructions from the Holy See during John Paul II's pontificate. Hopefully, one day soon, the Vatican will see that things haven't changed so much since Pius XII - just last week, a bishop was sent to be reeducated. How long must the "underground" clergy suffer?