Catholic World News
Anglican Catholic ordinariate for US formally established
January 02, 2012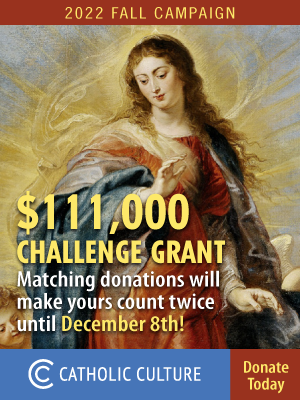 Pope Benedict XVI has formally established an ordinariate in the US for Anglicans entering the Catholic Church, and named a former Episcopalian bishop to lead it.
The new ecclesiastical jurisdiction, formally known as the Personal Ordinariate of the Chair of St. Peter, was established on January 1. Father Jeffrey Steenson, who once headed the Episcopal diocese of El Paso, Texas, will be the ordinary.
Father Steenson, who left the Anglican communion in 2007, was ordained in the Catholic Church in 2009, and has been serving as a priest of the Santa Fe, New Mexico diocese. A married man with three children, he will not become a bishop in the Catholic Church, but will administer the affairs of the new Anglican ordinariate.
With his apostolic constitution Anglicanorum Coetibus, Pope Benedict established the possibility of ordinariates for Anglicans entering the Catholic Church. The ordinariates provide pastoral care for those who wish to preserve the distinctive Anglican tradition within the Catholic Church. The first such ecclesiastical jurisdiction, the Ordinariate of Our Lady of Walsingham, was established in England last January.
The Ordinariate of the Chair of St. Peter will extend across the United States, and could include Anglican communities in Canada. Father Steenson will work with Bishop Kevin Vann of Fort Worth, Texas, in preparing Anglican priests for ordination to the Catholic priesthood. To date at least 67 Anglican clerics have expressed a desire to be Catholic priests, and more than half have already been approved by the Vatican's Congregation for the Doctrine of the Faith.
---
For all current news, visit our News home page.
---
Further information:
Sound Off!
CatholicCulture.org supporters weigh in.
All comments are moderated. To lighten our editing burden, only current donors are allowed to Sound Off. If you are a current donor, log in to see the comment form; otherwise please support our work, and Sound Off!
Posted by: jeremiahjj - Jan. 02, 2012 7:14 PM ET USA

I have chatted via email with the former bishop and believe him to be a godly man. He worried about losing his Episcopal (as in Episcopal Church) retirement, but said (and I quote from memory) he'd rather be a doorkeeper in the House of the Lord than the head of a church not been established by Our Lord and Savior Jesus Christ. I congratulate the former bishop and believe the new ordinariate will be a fine 'see' for him. Welcome home, Father!