Catholic World News
Number of US seminarians on the rise
November 30, 2011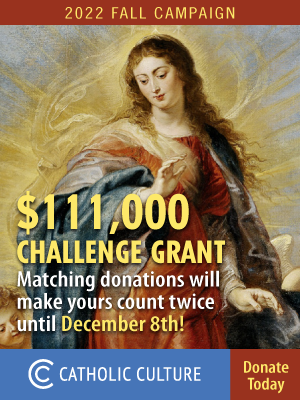 The number of seminarians in the United States has risen to 3,608--the highest number since the early 1990s--with some seminaries experiencing their highest enrollment in decades.
In Minnesota, the archdiocesan seminary in St. Paul has its largest enrollment since 1980, while enrollment at the Pontifical College Josephinum in Ohio is the largest since the 1970s. Theological College in Washington is at its maximum enrollment.
"I'm tremendously impressed with the quality of the candidates, their zeal," said Father Phillip Brown, who was appointed rector of Theological College in March. "We're seeing a real renewal of the priesthood."
Under Blessed John Paul II and Pope Benedict XVI, the Church worldwide has been blessed with a priestly vocation boom. The number of major seminarians surged from 63,882 in 1978 to 117,978 in 2009, an increase of nearly 85%, outstripping world population growth (58%) and Catholic population growth (56%) during the same time period.
---
For all current news, visit our News home page.
---
Further information:
Sound Off!
CatholicCulture.org supporters weigh in.
All comments are moderated. To lighten our editing burden, only current donors are allowed to Sound Off. If you are a current donor, log in to see the comment form; otherwise please support our work, and Sound Off!
Posted by: koinonia - Nov. 30, 2011 8:28 PM ET USA

The news is welcome, but one might appreciate that the percentages mean little. For example, the world population grew by billions during that time. The Church's membership also grew by much more than tens of thousands. We still need lots more priests as Europe in particular can attest.

Posted by: jdieterich616502 - Nov. 30, 2011 12:05 PM ET USA

This is the sort of story that we need to see circulated in every diocesean newspaper, website, and parish bulliten. The overwhelming number of seminarians out there right now, as well as those who have been ordained in the last 5-10 years are amazing men of God, but we need to get the word out. The people in the pew need to be encouraged, and inspired to encourage more vocations.

Posted by: Bigs2480 - Nov. 30, 2011 10:35 AM ET USA

Praise God! Pray for priests!