Catholic World News
Study: US bishops' lobbying expenses exceeded $26M
November 22, 2011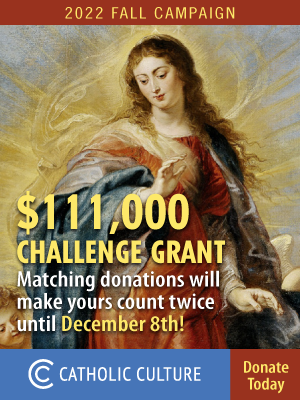 19% of the 212 religious advocacy groups in Washington are Catholic, according to a new study conducted by the Pew Forum on Religion and Public Life. Of the groups classified as Catholic--including the pro-abortion Catholics for Choice--the United States Conference of Catholic Bishops had the largest annual advocacy expenditure.
"The US Conference of Catholic Bishops' total operating expenses were more than $143 million in 2009, and the group did not report any direct lobbying expenditures," the authors of the study said. "In this instance, the Pew Forum selected the group's 'policy activity' expenses (about $27 million)."
Organizations classified as Catholic with over $1 million in annual advocacy expenditures included the United States Conference of Catholic Bishops ($26.67 million), American Life League ($6.67 million), Catholic Relief Services ($4.67 million), Human Life International ($3.83 million), Catholics for Choice ($2.96 million), Catholic Charities USA ($1.54 million), Catholic Family and Human Rights Institute ($1.41 million), and Center for Concern ($1.00 million).
The United States Conference of Catholic Bishops ranked second among all religious advocacy organizations, trailing the American Israel Public Affairs Committee ($87.90 million) and ahead of the Family Research Council ($14.26 million), American Jewish Committee ($13.36 million), and Concerned Women for America ($12.56 million).
---
For all current news, visit our News home page.
---
Further information:
Sound Off!
CatholicCulture.org supporters weigh in.
All comments are moderated. To lighten our editing burden, only current donors are allowed to Sound Off. If you are a current donor, log in to see the comment form; otherwise please support our work, and Sound Off!
Posted by: ElizabethD - Nov. 25, 2011 3:56 PM ET USA

Bad headline. Headline says "lobbying expenses" but in the article I read: "the group did not report any direct lobbying expenditures... In this instance, the Pew Forum selected the group's 'policy activity' expenses (about $27 million)." The USCCB is forming consciences on the issues, as they should be because of the teaching office of bishops. Those who are shocked seem to be misunderstanding what these expenditures refer to. It is up to lay people to lobby.

Posted by: Polycarp - Nov. 25, 2011 11:39 AM ET USA

A few questions: is this rendering to Ceasar or to God? The purpose of the priesthood is to teach an sanctify. Which of these includes legislating? Did Peter and Paul ever lobby Ceasar for laws? Or dud they proclaim the truth fearlessly and accept death in return? Just a few questions to put this in perspective.

Posted by: - Nov. 23, 2011 10:12 AM ET USA

Can we at CatholicCulture.org learn, or do the bishops even learn, exactly where these millions are spent and what the results of the presumed activity of the involved lobbyists are? And just who are the lobbyist/payees?

Posted by: - Nov. 23, 2011 7:29 AM ET USA

Hal, you're "less inclined?" I stopped giving that 2nd collection several years ago and the good Pastor actually suggested in the bulletin that people give instead to local charities.

Posted by: polish.pinecone4371 - Nov. 22, 2011 11:33 PM ET USA

Why are you assuming that what was spent was spent on the wrong kind of lobbying? Granted, we have past experience to go on, but who is to say that things have not changed under Archbishop Dolan and other bishops who are in leadership positions?

Posted by: jeffrey5844 - Nov. 22, 2011 11:14 PM ET USA

I am guessing they lobby for the right to continued private education (this is always being attacked), bioethics issues, pro-life issues, and true marriage and family issues, religious freedom and conscious protection (just to name a few). I think there are 70 million Catholics in the US -- so roughly, we each donated about 35 cents on lobbying! Seems like a good investment to me -- I think they should spend more -get the most faithful & best. "You get what you pay for" -- so the saying goes.

Posted by: bkmajer3729 - Nov. 22, 2011 11:06 PM ET USA

...gives pause to the reasons given for Father Pavone's recall. Perhaps that's not fair and mixinig apples and oranges. But, does anyone really know where the money goes? I mean really?

Posted by: bsp1022 - Nov. 22, 2011 9:35 PM ET USA

Come on, it's expensive to maintain a place at the Federal trough. Catholic Charities now is not your father's CC. 60% of total budget [since mid-80's] comes from U.S. taxpayers. 25% @ end of the 60's / 50% by late 70's. [cites available] Just now the USCCB harvests the reality of being a gov. contractor regarding sex trafficking. For any interested, the change in philosophy is all on the web. There are state CC orgs. that do not accept gov. money. God bless them! For the rest.. not on my dime.

Posted by: hartwood01 - Nov. 22, 2011 8:55 PM ET USA

Is the USCCB financially accountable to anyone?

Posted by: Hal - Nov. 22, 2011 3:05 PM ET USA

That is absurd. I am less inclined than ever before to consider the "second collection" requests we get from them. How proud they must feel for the remarkable benfits they received from their money! The faith under fire in the US as never before. Well done!

Posted by: - Nov. 22, 2011 1:26 PM ET USA

This number is a shocker. Toward what issue or issues was this sum directed and what was accomplished, if anything?