Catholic World News
Franciscan scholar dismisses teaching of Catechism, Pius XII on Adam and Eve
August 29, 2011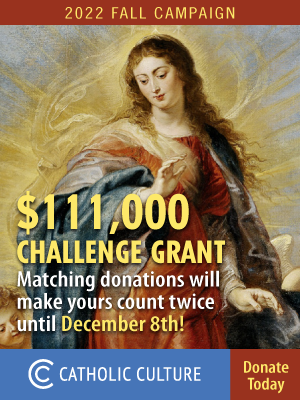 In comments appearing in diocesan newspapers across the United States, Father Michael Guinan, a professor of Old Testament at the Franciscan School of Theology in Berkeley, California, has dismissed the teaching of Venerable Pius XII on polygenism and the Catechism of the Catholic Church on the historicity of Adam and Eve.
In his 1950 encyclical Humani Generis, Pope Pius taught that
When, however, there is question of another conjectural opinion, namely polygenism, the children of the Church by no means enjoy such liberty. For the faithful cannot embrace that opinion which maintains either that after Adam there existed on this earth true men who did not take their origin through natural generation from him as from the first parent of all or that Adam represents a certain number of first parents. Now it is in no way apparent how such an opinion can be reconciled with that which the sources of revealed truth and the documents of the Teaching Authority of the Church propose with regard to original sin, which proceeds from a sin actually committed by an individual Adam and which through generation is passed on to all and is in everyone as his own.
Father Guinan told Catholic News Service--which did not publish comments from other scholars with orthodox views--that in the decades since the encyclical's publication, "the Catholic Church has accepted the use of historical-critical tools to understand the Scriptures … The question of biological origins is a scientific one; and, if science shows that there is no evidence of monogenism and there is lots of evidence for polygenism, then a Catholic need have no problem accepting that."
Commenting on the Catechism of the Catholic Church's teaching that "the account of the fall in Genesis … uses figurative language, but affirms a primeval event, a deed that took place at the beginning of the history of man," Father Guinan, who taught for 13 years at the San Francisco archdiocesan seminary, said:
It recognizes that Genesis is figurative language, but it also wants to hold to historicity. Unfortunately, you can't really have both. The Catechism is clearly not the place to argue theological discussions, so whoever wrote it decided, as it were, to have it both ways.
"The man and woman of Genesis … are intended to represent an Everyman and Everywoman," he added. "They are paradigms, figurative equivalents, of human conduct in the face of temptation, not lessons in biology or history. The Bible is teaching religion, not science or literalistic history."
---
For all current news, visit our News home page.
---
Further information:
Sound Off!
CatholicCulture.org supporters weigh in.
All comments are moderated. To lighten our editing burden, only current donors are allowed to Sound Off. If you are a current donor, log in to see the comment form; otherwise please support our work, and Sound Off!
Posted by: Babolin - Aug. 30, 2011 11:14 AM ET USA

I am a paleontologist. As such I rather believe that in the Genesis (Bible) reference is made to the soul of men, the soul of Adam, the soul of Eve, not our physical body. Now, how far is such a personal opinion incompatible with Catholic Faith is another story. Anyway, warm thanks to clinnickr5320 for his to the point comment.

Posted by: clinnickr49 - Aug. 30, 2011 12:39 AM ET USA

Please good Catholics, not everyone from Berkeley can be written off. That is just evading the very real theological issue. Please do a little homework instead. Both Cardinal Schonborn, editor of the CCC, and Pope Benedict have stated that the CCC is not the place to look for a discussion of evolution and the Catholic Theology of Creation. In recent decades the see of Rome has authorized a properly understood poly-genetic origin for humans as genuinely consistent with Catholic Faith.

Posted by: TheJournalist64 - Aug. 29, 2011 8:15 PM ET USA

This guy is even scientifically ignorant. We know, for instance, from mitochondrial DNA that there was one female ancestor of all women. Could that person be known as "Eve"?

Posted by: davidSanDiego - Aug. 29, 2011 7:55 PM ET USA

Actually nothing is pure-bred (e.g., if you want to start a new breed of cats you need to mix other breeds into it). I would also take care with equating rational though as our defining characteristic. We take pride in our smarts but God may define us some other way (e.g., human embryos are not strong thinkers). Perhaps one adam with one eve was a spiritual event rather than a biological one. Recall that Cain had to go to the land of Nod, east of Eden, to find a wife.

Posted by: JimK01 - Aug. 29, 2011 6:28 PM ET USA

The key to understanding this story can be found in the intro that states that the author is from "Berkley." Enough said!

Posted by: skladach - Aug. 29, 2011 6:02 PM ET USA

Even granting macroevolution (which I don't), commonsense statistical thinking shows that polygenism is prohibitively unlikely. What are the chances that four (or six or more) mutant hominid apes concurrently produced genetically compatible offspring that then lifted off into Rational Animal Land?